CBS Evening News with Norah O'Donnell
Channel 4 News - KNBC Los Angeles
Hear Madeleine and her mother Katherine speak about the origins of the Covid Memorial Quilt and how you can become involved in healing hearts around the world with our living memorial to honor and remember all those lost to COVID-19.
COVID MEMORIAL QUILT: VIDEOS AND INTERVIEWS
People Magazine - TV interview
"Reading the letters made me realize who they were," Madeleine Fugate, 14, tells PEOPLE.
At just 13, Madeleine Fugate could feel her anger grow as she watched yet another TV news station reporting the numbers of COVID-19 cases rising in the United States last spring.
"They aren't just numbers — they are real people who had lives, jobs, families and friends, a pet," Madeleine, now 14, tells PEOPLE in this week's issue.
Her outrage led to a realization: "We have to remember them."
MSNBC: "LIVES WELL LIVED" - Special with Nicolle Wallace
Madeleine and the Covid Memorial Quilt were featured in an hour long special on MSNBC with Nicolle Wallace in March, 2021. This special hour was dedicated to remembering and honoring COVID-19 victims and their families as well as the many ways they are being remembered through living memorials and art projects, like the Covid Memorial Quilt.
14 year old sewing a patchwork of stories to honor lives lost to COVID-19. This emotional piece, including the reading of several letters and telling the stories of the people lost to COVID-19, played across the country in over 60 local markets.
NBC Nightly News with Lester Holt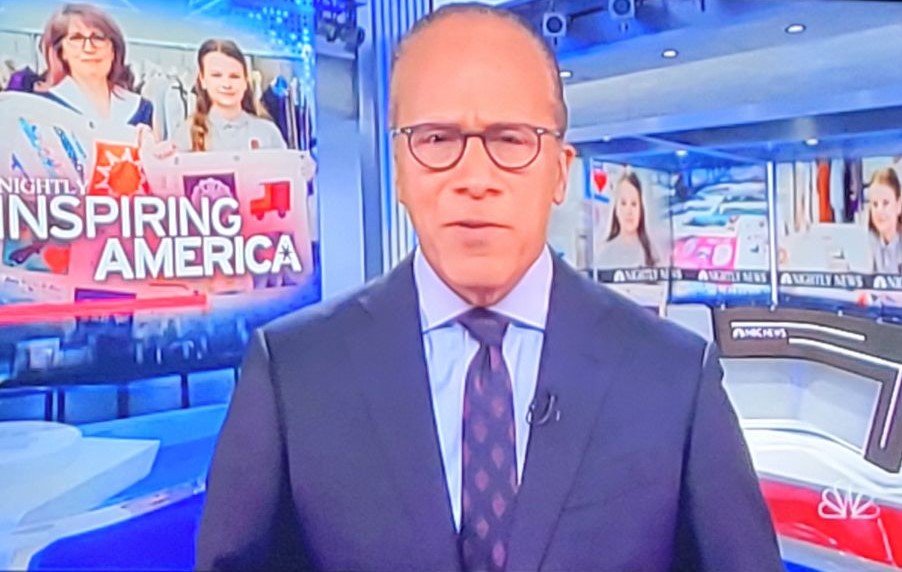 National Library of Medicine
The National Library of Medicine (NLM): Has selected the Covid Memorial Quilt website for inclusion in the Library's historical collections of web content as part of its mission to collect, preserve, and make available to the public materials that provide information in medicine and public health, and document their histories.
YAHOO! Life TV with Jenny Miller
ABC Eyewitness News - Los Angeles
Spectrum News with Itay Hod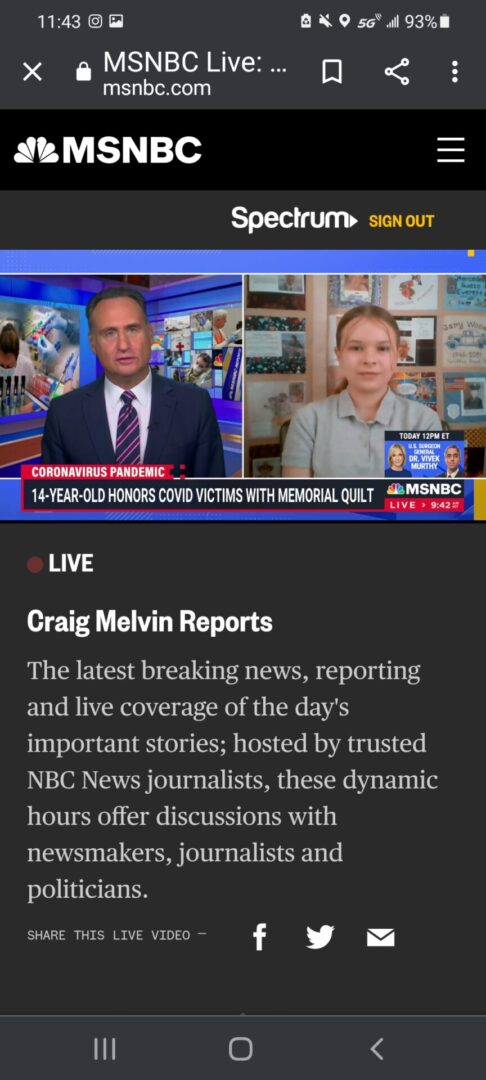 Madeleine displays Memorial Squares created by friends and family of COVID-19 victims. The live musical event was broadcasted live on YouTube and shown in assisted living homes and children's hospitals to bring light, love, and cheer to all those in quarantine.
RADIO, NEWSPAPERS, MAGAZINES: PLEASE CLICK LINK TO READ FULL ARTICLES
AP: A World Remembers: Global Memorials Honor 5 Million Dead

ArtNet: How Do You Mourn A Pandemic? See How Artists Around The World Are Building Monuments

Waging Nonviolence: Preserving a People's History Through Quilts, AIDS Memorial Quilt, Black Lives, Covid Memorial Quilt
KOST FM With Ellen K and Ryan Seacrest

KFI Radio Los Angeles - "Wake Up Call" 

Podcast With Ken Jeffries, KABC Radio