IN MEMORY OF MICHAEL P. NAVOJOSKY - MARCH 20, 1944 - NOVEMBER 7, 2020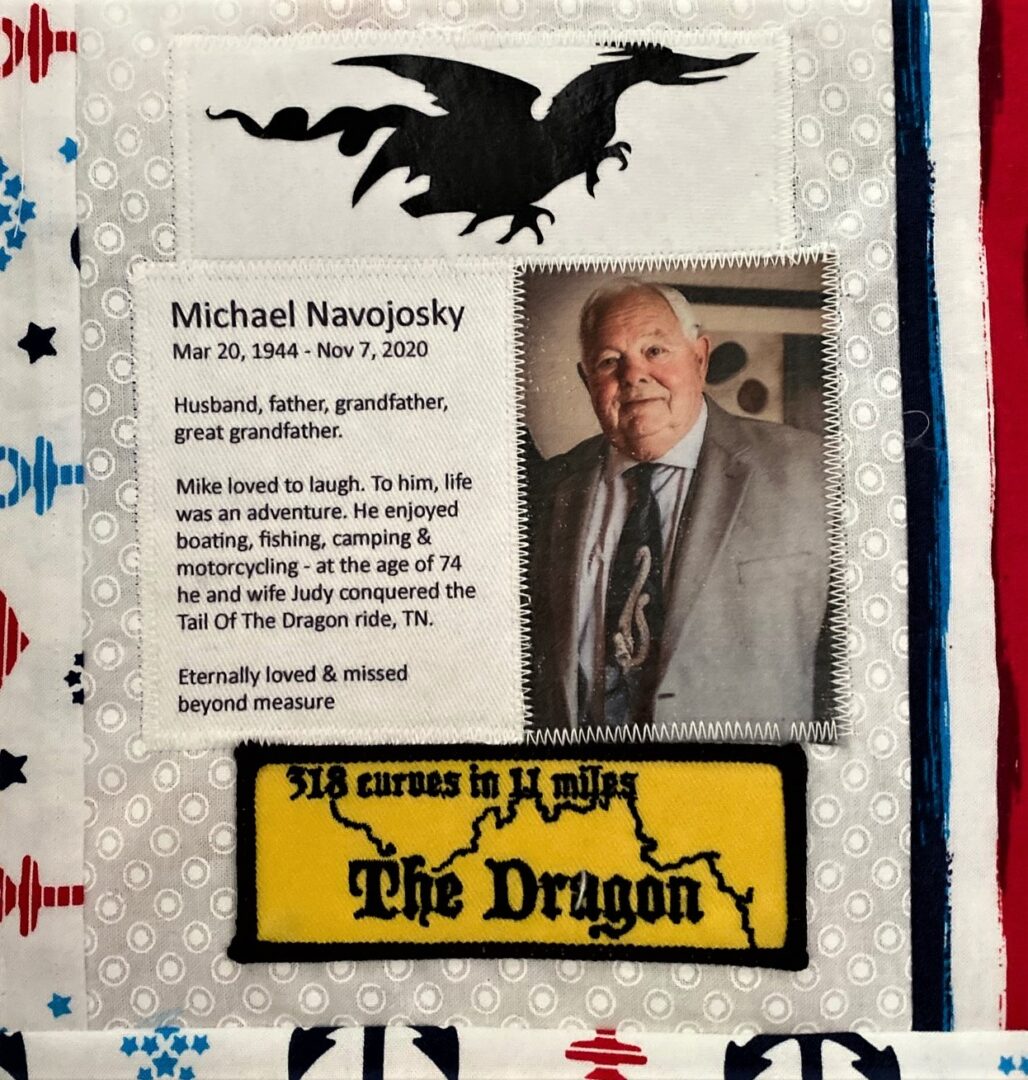 This Memorial Square comes to us from Judith in Ohio in honor and memory of her husband, Michael "Mike" P. Navojosky, who died of COVID-19. Judy writes: I was blessed to know Mike for 61 years. We had a strong marriage the last few years we were together. We could read each others minds. We were "soul mates." I am grateful for a Covid Memorial Quilt in memory to all lost loved ones due to COVID-19. About Mike: Mike spent 76 years on this earth, and he made people laugh for every single one of them. If his story or joke wasn't somehow enough to do the trick, his own infectious laugh would. There was nothing he wouldn't do to bring a smile on the face of those he cared about. For 56 years he held his most cherished titles: doting husband to his beloved wife Judy, father of three, grandfather (Poppi) to eight, and great grandfather of one. For 60 years he maintained a steadfast work ethic, taking pride in everything he did both professionally and personally. Life with him was an adventure. The majority of his greatest memories were made outdoors - snowmobiling when his kids were younger, boating and fishing in Ohio and Florida, motorcycling, and camping. At the age of 74 he conquered The Tail of the Dragon in Deals Gap with his wife on the back of his motorcycle. With 318 curves in 11 miles, it was the ride of their lives. Mike was the patriarch to his family. The void left without him is one that simply cannot ever be replaced, he is eternally loved and missed beyond measure. With his strength to guide us, we look forward to the day we can once again hear the sweet sound of his whistling, feel his warm embrace, and share in many more laughs together.  We will honor and remember Mike on the Covid Memorial Quilt. 
IN MEMORY OF LILLIANTYNE "TYNA" FIELDS - OCTOBER 26, 1930 - APRIL 8, 2020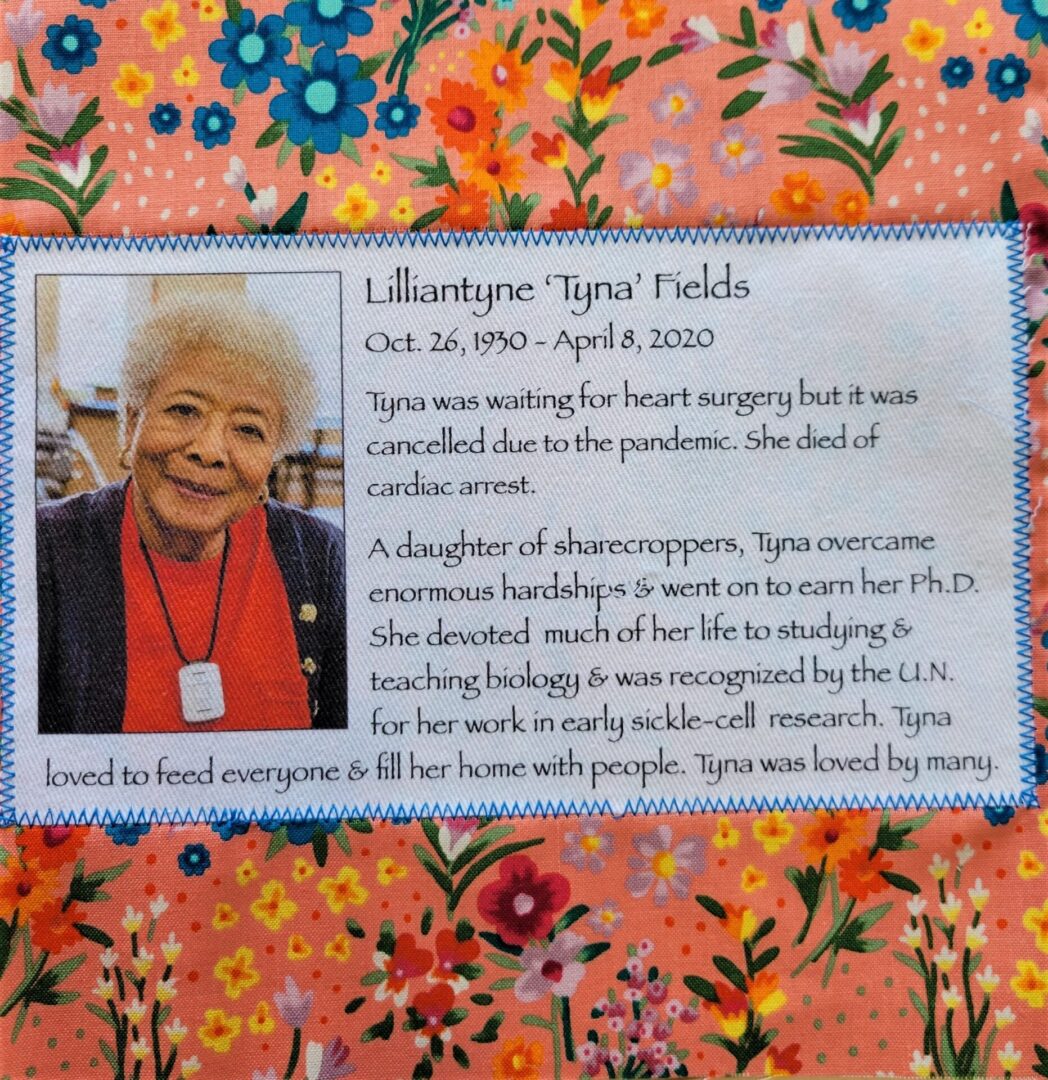 This Memorial Square is in honor and memory of Lilliantyne "Tyna" Fields who died on April 8, 2020. The human toll of the coronavirus pandemic is generally expressed in terms of people who've died from COVID-19. But beyond those infected are countless others whose deaths during and related to the pandemic are not reflected in the totals. From her obituary: Lilliantyne Fields, nicknamed Tyna, died April 8, 2020 of cardiac arrest at age 89. Tyna was born on October 26, 1930, in segregated El Reno, Oklahoma, to two sharecroppers. Though she had a "horribly rough" childhood, Tyna became the first in her family to graduate from high school when she received her diploma from Booker T. Washington High School, El Reno's only K-12 school for Black students at the time. Tyna went on to study biology at Langston University, now the only remaining historically Black college in Oklahoma. She graduated magna cum laude in 1955. In 1965, after her two children were born, Tyna earned a master's degree from Wichita State University in Kansas. She started teaching junior high school, becoming one of 4 Black teachers in Wichita Public Schools who were allowed to teach above elementary school age. "All her life, she embodied her belief that public education has to work for all students." When Tyna's health started to decline, she and her husband moved into an independent living facility in Seattle. "They just loved it. Their friends moved there, and they did water aerobics and bridge and went on walks. They were these little ladies, and just as active as can be...Which is why my mom's death is still very difficult for me," Laneyse said. Tyna was supposed to have a pacemaker put in at the end of March, 2020, to address her atrial fibrillation. But on the day of her surgery, the hospital - in an effort to prevent the spread of COVID-19 - halted all elective surgeries and canceled her operation without rescheduling it. Two weeks later she died. We will honor and remember Tyna on the Covid Memorial Quilt.  
IN MEMORY OF ANN C. FORBES - 1945 - 2020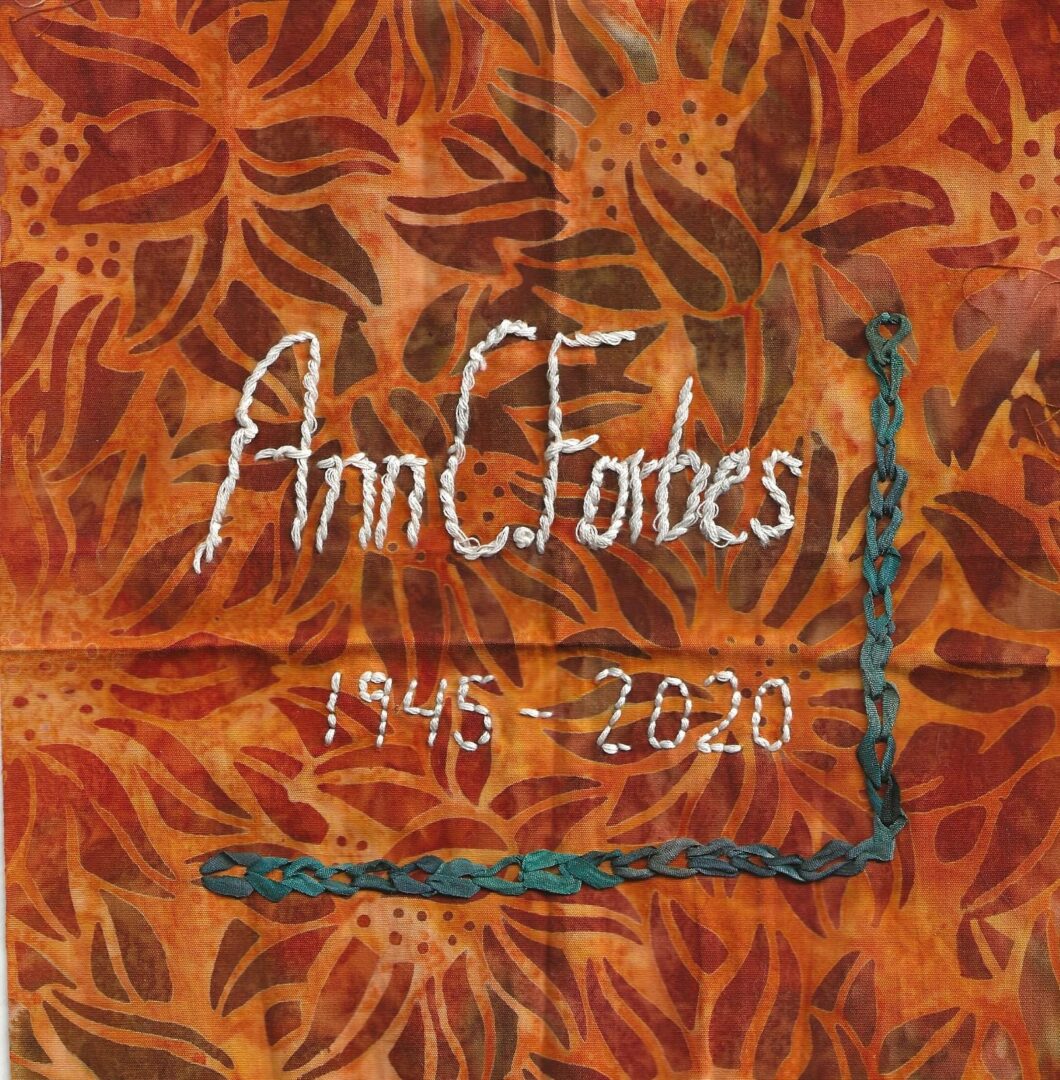 This Memorial Square comes to us from Suzzanne in New York in honor and memory of her mother, Ann C. Forbes, who died of COVID-19. Suzzanne writes: This square is in memory of my mom who passed away in May 2020 from the virus. My mom was only 75 and in a nursing home due to mobility issues. Despite the fact she had not left the facility in almost three years, and rarely left her room, the virus took her from us too soon. The day of her death, the total of American COVID deaths was 69, 921. Today (February 17, 2021) that number is 488,000+. There is no comfort in knowing my family and I are not alone; however, I am glad your project/initiative continues to get more attention. Your project is providing comfort for many of us, helping us to remember our loved ones during this challenging time, not just in our nation, but in the world. We will honor and remember Ann on the Covid Memorial Quilt.   
IN MEMORY OF BENNY ANORICO ARANAS - JANUARY 12, 1947 - APRIL 25, 2020
This Memorial Square is in honor and memory of Bennie Anorico Aranas who died of COVID-19 on April 25, 2020. From his obituary: When Bennie was being treated for COVID-19, video calls from his hospital bed were filled with more than 100 friends and family members. "At the end of the day, family needs to come together. You're there for one another," said Aranas' oldest son, Byron, describing a family of 40-plus nieces and nephews. "And he truly was a family guy. Family first."
When Aranas tested positive for the new coronavirus doctors asked his family if they'd like him to participate in their early clinical trials for Remdesivir, the first drug shown to be effective against COVID-19. Byron Aranas, 47, said he didn't know if his father had been given the drug or a placebo during that trial, but in the first week, his condition started improving. Then, on the 11th day, his condition worsened. By the 12th day — April 25 — he was gone.
His family said the 73-year-old was born and raised in Taal, a city in the Philippines. He joined the Navy in 1968 at a U.S. base in the Philippine province of Cavite, his wife said. He wasn't an American citizen at the time, but was allowed to live in the U.S. as part of the military, she said. Three years after he joined the Navy, he applied for U.S. citizenship, she said.
"He was the pioneer for all of us getting here," Byron Aranas said, noting the many sacrifices his father made to better his family members' lives. "He was the leader of the whole big family … His ultimate goal was to bring his whole family to the U.S."
We will honor and remember Bennie on the Covid Memorial Quilt.
IN MEMORY OF AMANDA PAULINE BOUFFIOUX - DECEMBER 26, 1975 - SEPT 8, 2020
This Memorial Square comes is to honor and remember Amanda Pauline Bouffioux who died of COVID-19 on Sept 8, 2020.  From her obituary: When the coronavirus pandemic began, Amanda Bouffioux and her family stayed home. Bouffioux, an Inupiaq Alaska Native, worked as an administrative assistant for the Anchorage management services office of NANA, an Alaska Native corporation owned by more than 14,000 Inupiaq shareholders. During the week, she would go into the office only to pick up paperwork. The office reopened in the summer and she made sure to wear her mask. After a family day trip to the port city of Seward in mid-August, Bouffioux started to feel sick. Her partner, Scott Wells, insisted she go to a hospital, where she tested positive for the virus. She was sent home and isolated herself in their bedroom, away from their children, Chris, 8, and Terrisa, 9. He and the children had tested negative. When her condition worsened, Wells took her back to the hospital and this time, she was admitted. Several days later, on Aug. 19, she was intubated and put on a ventilator.
"She called the day they were going to intubate her," Wells said in an interview. "I told her I loved her, not to worry about the kids, just work on getting better. That was the last time I talked to her." 
Bouffioux died Sept. 8 at a hospital in Anchorage. She was 44.
Amanda Pauline Bouffioux was born Dec. 26, 1975, in Kotzebue, a village above the Arctic Circle in northwest Alaska. Her birthparents gave her up for adoption to Edna and Norman Bouffioux. A fan of country singer George Jones, she sang in her high school choir and played the flute. Bouffioux was taking courses online at a Native community college, and had dreams of owning her own business.
"When she put her mind to something, she made things happen," said her sister Clarissa Coffin. "She was so unselfish and just so good at taking care of people."
We will honor and remember Amanda on the Covid Memorial Quilt.
IN MEMORY OF BOBBY BEGAY - APRIL 24, 2020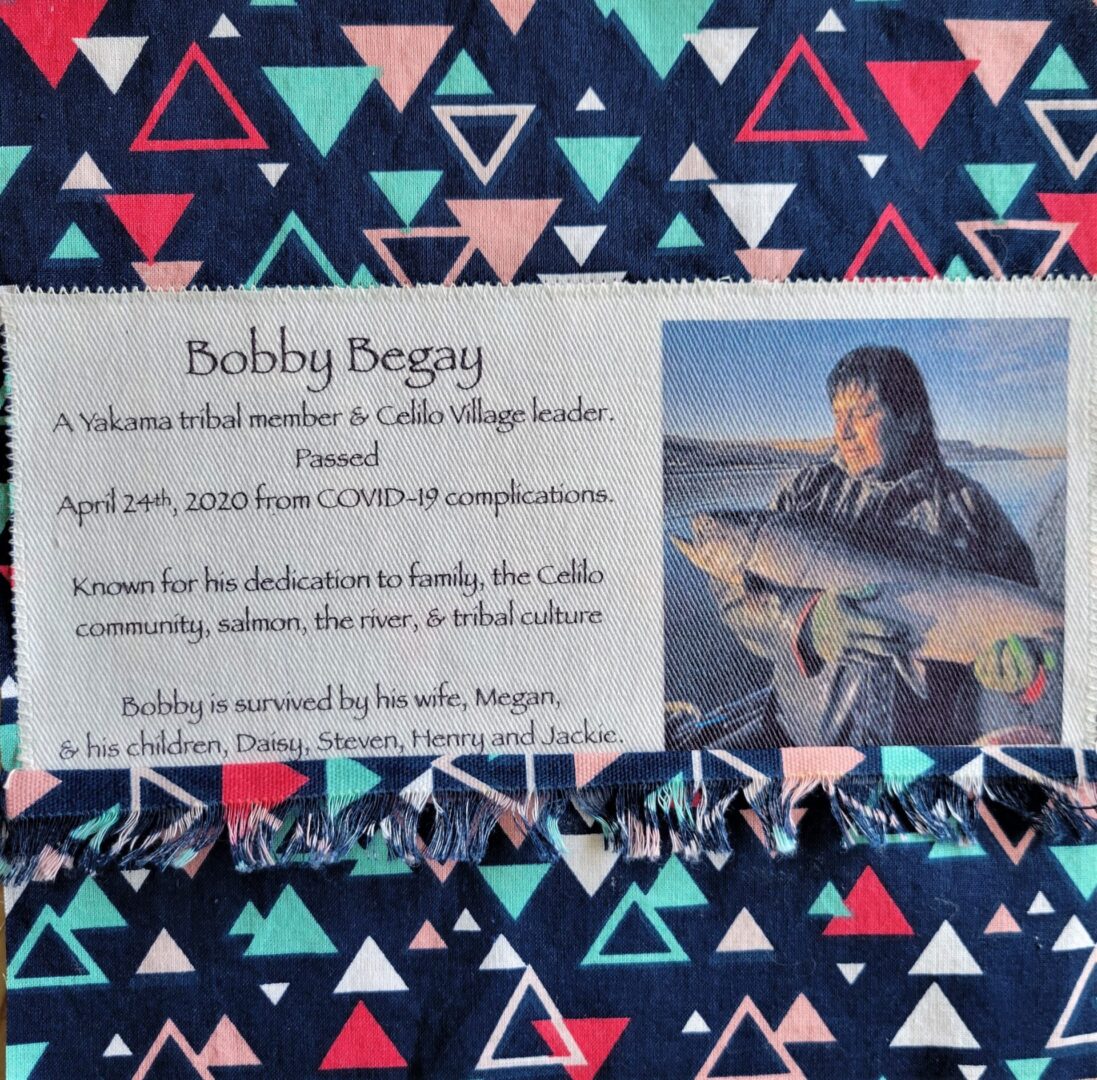 This Memorial Square is in honor of Bobby Begay, a Yakama tribal member & Celilo Village leader who died of COVID-19 on April 24, 2020. From his obituary:
The lead fish technician of the Columbia River Intertribal Fish Commission (CRITFC), Bobby Begay, a man who harassed sea lions to protect salmon in the Columbia River and who wasn't afraid to plunge into the frigid waters of Willamette Falls to harvest lamprey the way his Yakama Nation ancestors have done for thousands of years, died April 26 from complications of the Corona virus. He was 51.
Mr. Begay, leader of the historic fishing village at Celilo Falls, was known for his dedication to his family, the Celilo community, salmon, the river, and tribal culture. In a memorial, CRITFC observed, "He was a bridgebuilder who connected many groups and individuals across cultural divides. His example of intertribal brotherhood embodied the hopes and values envisioned by tribal leaders from the Yakama, Umatilla, Warm Springs, and Nez Perce tribes when they came together to form CRITFC. He was an incredibly generous person and had a willingness to share not only his harvest, but the message of why salmon, lamprey, and the river are central to our culture. He did so for countless groups with enthusiasm and humor."
A photo issued by CRITFC with its memorial shows Begay embracing a large Chinook salmon, a tender gesture that shows his respect for the fish.
We will honor and remember Bobby on the Covid Memorial Quilt. 
IN MEMORY OF ELLA LUHANY - APRIL 25, 1918 - JUNE 24, 2020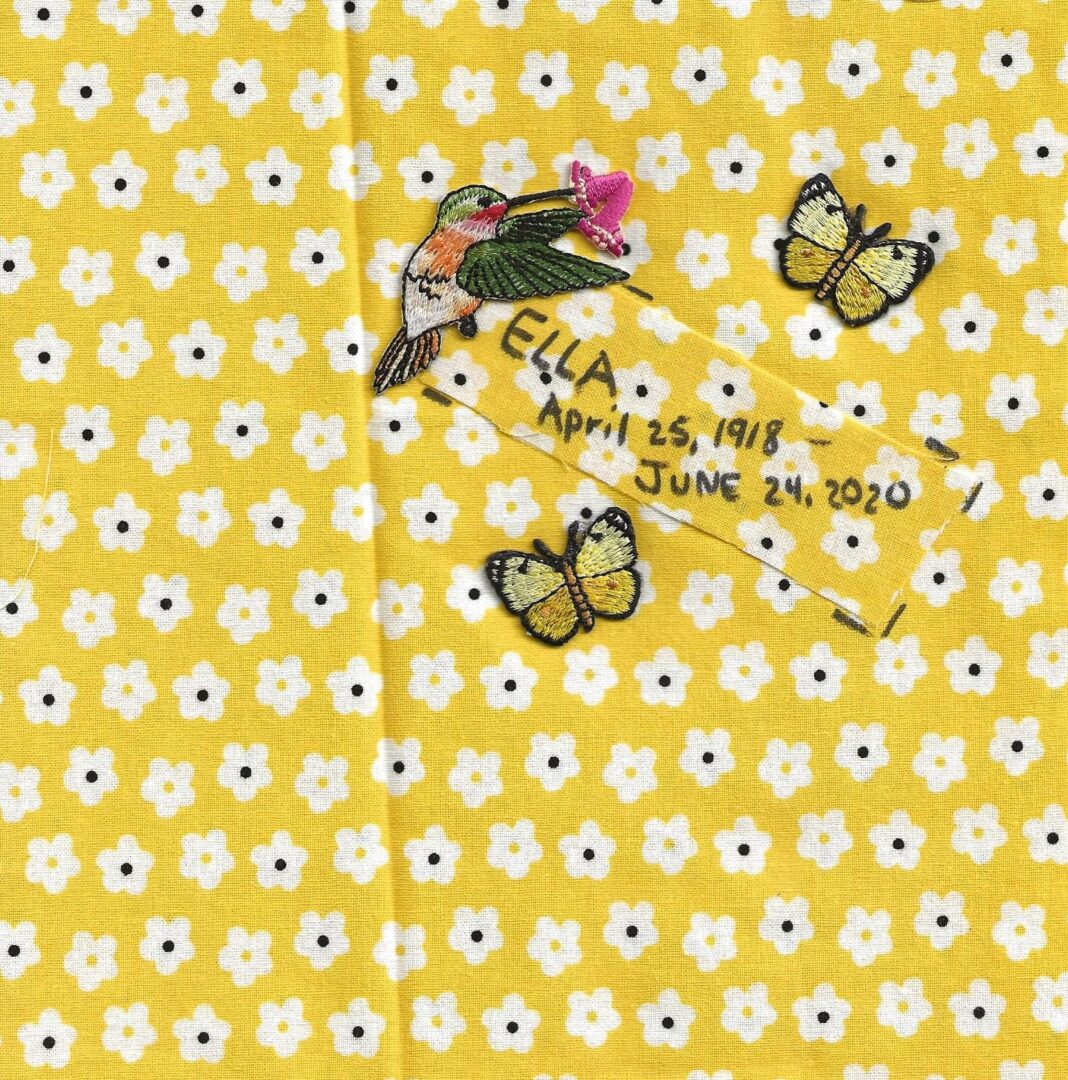 This Memorial Square comes to us from Joanne in Ohio in memory of her mother, Ella Luhaney, who died of COVID-19 on June 24, 2020. Joanne writes: I lost my Mom to the COVID-19 virus. She was 102 years young! I miss her and our adventures everyday. We will honor and remember Ella on the Covid Memorial Quilt.   
IN MEMORY OF COLLEEN STUBER - APRIL 21, 2020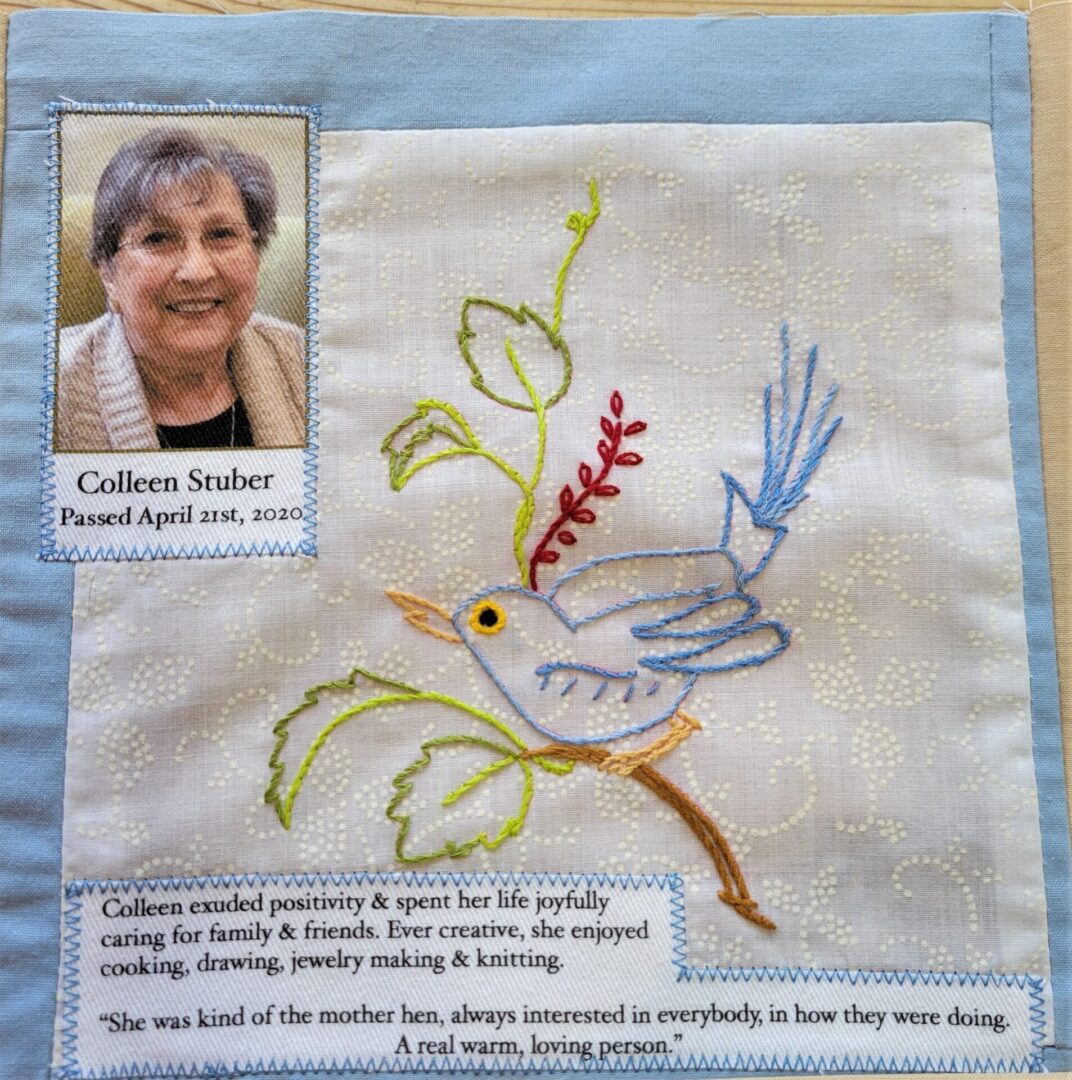 This Memorial Square is in honor and memory of Colleen Stuber who died of COVID-19. From her obituary: Handmade beaded jewelry, barbecue-flavored meatloaf, knitted baby blankets and boureka pastries — these were just some of the ways in which Colleen Stuber showed her love for family and friends. Throughout her life, she loved to take care of people, and to share whatever she had. "She was a server by nature," said her daughter, Sonja Garmanian, "always ready to lend a helping hand to anyone in need."
A lifelong resident of the Seattle area, Stuber was born Colleen Kola Almo in Bremerton and graduated from Bremerton High School. At the time of her April 21 death from the novel coronavirus, at age 81, she was a resident of the Peters Creek Retirement & Assisted Living community in Redmond. Stuber had lived there for seven years and, her daughter said, adored the staff and residents, considering them her second family.
A woman who exuded positivity, Stuber spent her life joyfully caring for her family and for the many people she met along her adventurous career path. At heart, her daughter said, Stuber was an entrepreneur: As a divorced young mother in the mid-'70s, she transformed her love of cooking into a West Seattle restaurant, Hungry Man's Café. 
"She got a financial backer and did all the cooking and baking herself," said Garmanian, recalling childhood memories of twirling on the stools at the cafe counter. It was, she said, an "old-fashioned, family-ish" kind of place — "really warm and inviting. People felt like they were coming to her home and eating in her living room." 
Hers was a life cut short too suddenly: Eisenhauer said sadly that Stuber had a bucket-list wish of going up in a hot-air balloon (appropriate for a woman who would end conversations with "I love you to the moon and back"), and that he had hoped to do that with her later this year. But it was one filled with boundless good cheer and love. Garmanian summed up her mother's life philosophy with a lyric from an old Nat King Cole song.
"The greatest thing you'll ever learn
Is just to love and be loved in return"
We will honor and remember Colleen on the Covid Memorial Quilt.
IN MEMORY OF FRANK RICHARD LaRIVIERE - JUNE 18, 1927 - AUGUST 14, 2020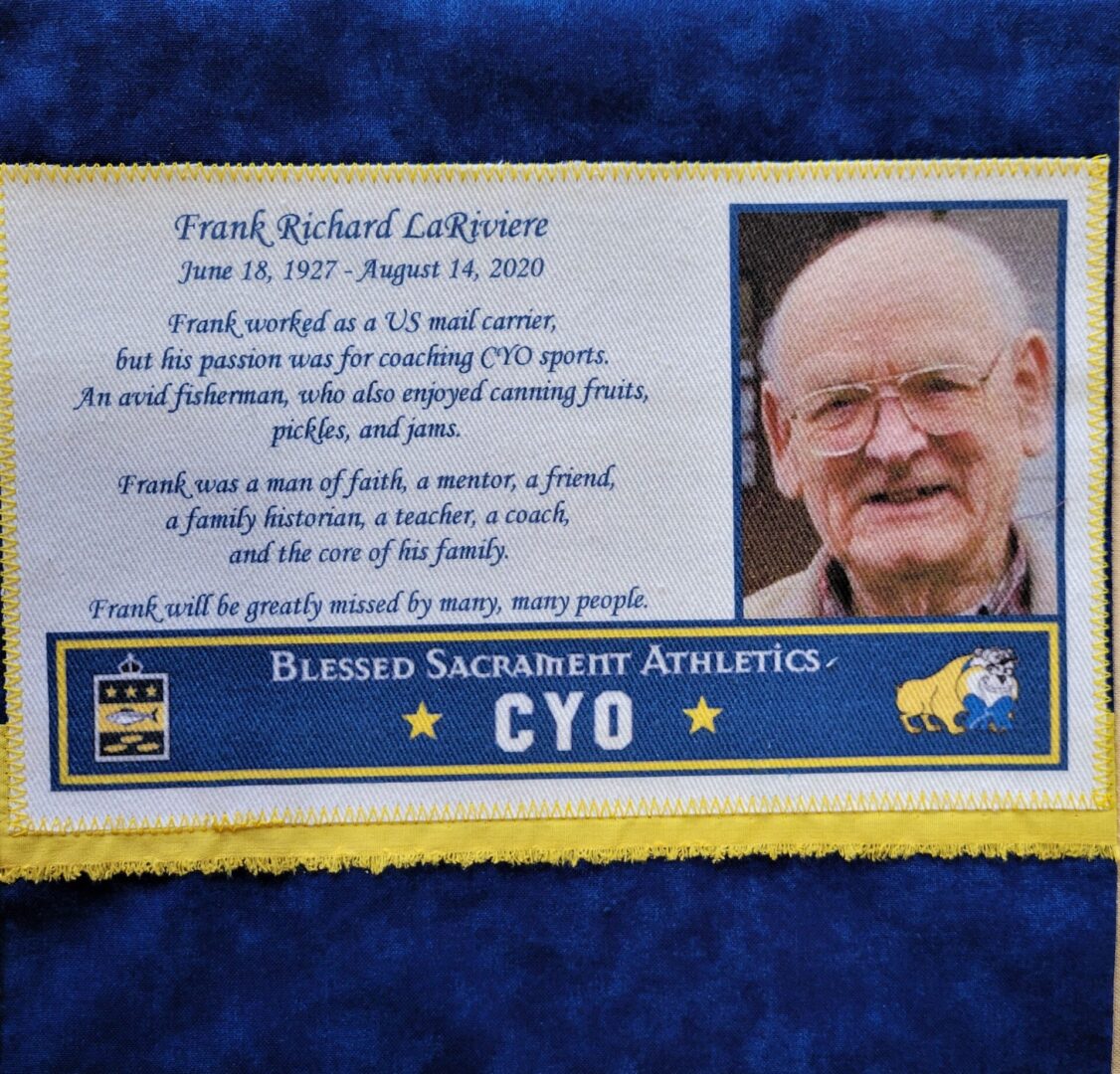 This Memorial Square is to honor and remember Frank Richard LeRiviere who died of COVID-19 on August 14, 2020.  From his obituary:
Frank was raised in Long Beach, CA and Oakland, CA before the family settled in Seattle. During WW II he started coaching youth sports in Seattle while in high school. He graduated from Seattle Prep in 1946, enlisted in the Army and served in Korea.  Upon his return from the service, Frank attended Seattle University, began his career as a US mail carrier and continued coaching youth sports in Seattle.  His retirement from the Post Office at age 56 was to free up more time to engage with others and to pursue his various hobbies.
He was the designated family photographer all his life.  Numerous beautiful photos depict his hikes and outdoor adventures, mostly in the Northwest, as well as every family event he attended during his long life. Love of photography was one of Frank's many interests that he passed on to more than a few family members. Frank was an avid fisherman nearly year-round, in both freshwater and saltwater – particularly summer-run steelhead on the North Fork of the Skykomish River.  He passed his love of fishing on to many family members as well. Canning is another skill that was taught to many by Frank; much time was spent in the summer canning many types of fruits, pickles, and jams. 
One of his true passions was shopping and making purchases at Goodwill, Seattle. He amassed a 2,000-volume book collection, hundreds of cameras, various knick knacks and tools that filled up his house. He could hold a knowledgeable conversation on a host of topics – military history and tactics, Boeing airplanes, Pacific Northwest History, flora and fauna of the PNW, photography, salmon and steelhead fishing and many other subjects. Many an hour was spent visiting and talking with Frank at his house.
As Frank would say when closing out a phone conversation - "Cheers!".
We will honor and remember Frank on the Covid Memorial Quilt. 
IN MEMORY OF CAROLA MONTERO - DECEMBER 6, 2020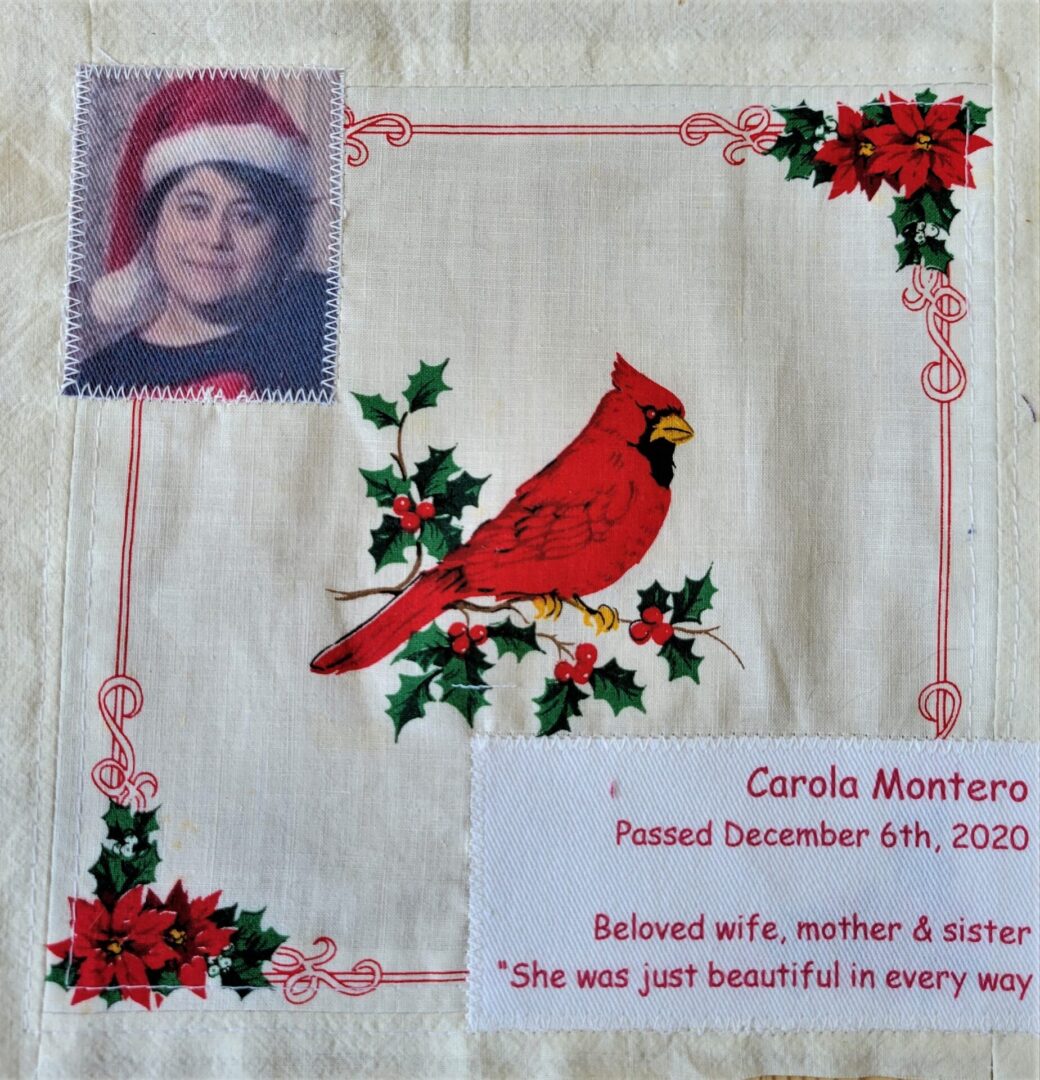 This Memorial Square is in honor and memory of Carola Montero, who died of COVID-19 on December 6th, 2020. From her obituary: The family of a Milwaukie mother of four, who recently passed away due to COVID-19, says her death should be a wakeup call for others. Carola Montero was 46 years old. "I'm heartbroken," said Montero's daughter, Catalina Castillo, 21. "I would honestly say my mom was my best friend and I miss her every day." 
Carola leaves behind a husband in addition to her four kids who range in age from 11 to 23. "She was just beautiful in every way," said Carola's brother, Javier Montero. "Everyone who was lucky enough to meet her was able to find that out." 
Family said Montero was always cautious regarding COVID-19, especially because she had diabetes. "If she went out, she always wore a mask," said Catalina. "She sanitized her hands."
Despite those precautions, Carola and four other family members contracted COVID-19 around November 20. They're still piecing together how they got it. Everyone except for Carola recovered. On December 1, doctors discovered blood clots in her small intestine which limited blood flow. Carola passed away in her sleep, December 6. Another life lost to the pandemic. "
It's killing people," said Catalina. "It doesn't matter if you're young or old, middle-aged; it affects everyone." "I think that's the biggest way to honor her memory," said Javier. "To reach out to those who might not think it's a big deal anymore, to make sure they are aware that it's a constant, that it hasn't stopped."
We will honor and remember Carola on the Covid Memorial Quilt.
IN MEMORY OF MARK GILLGAM - JUNE 14, 1956 - JUNE 19, 2021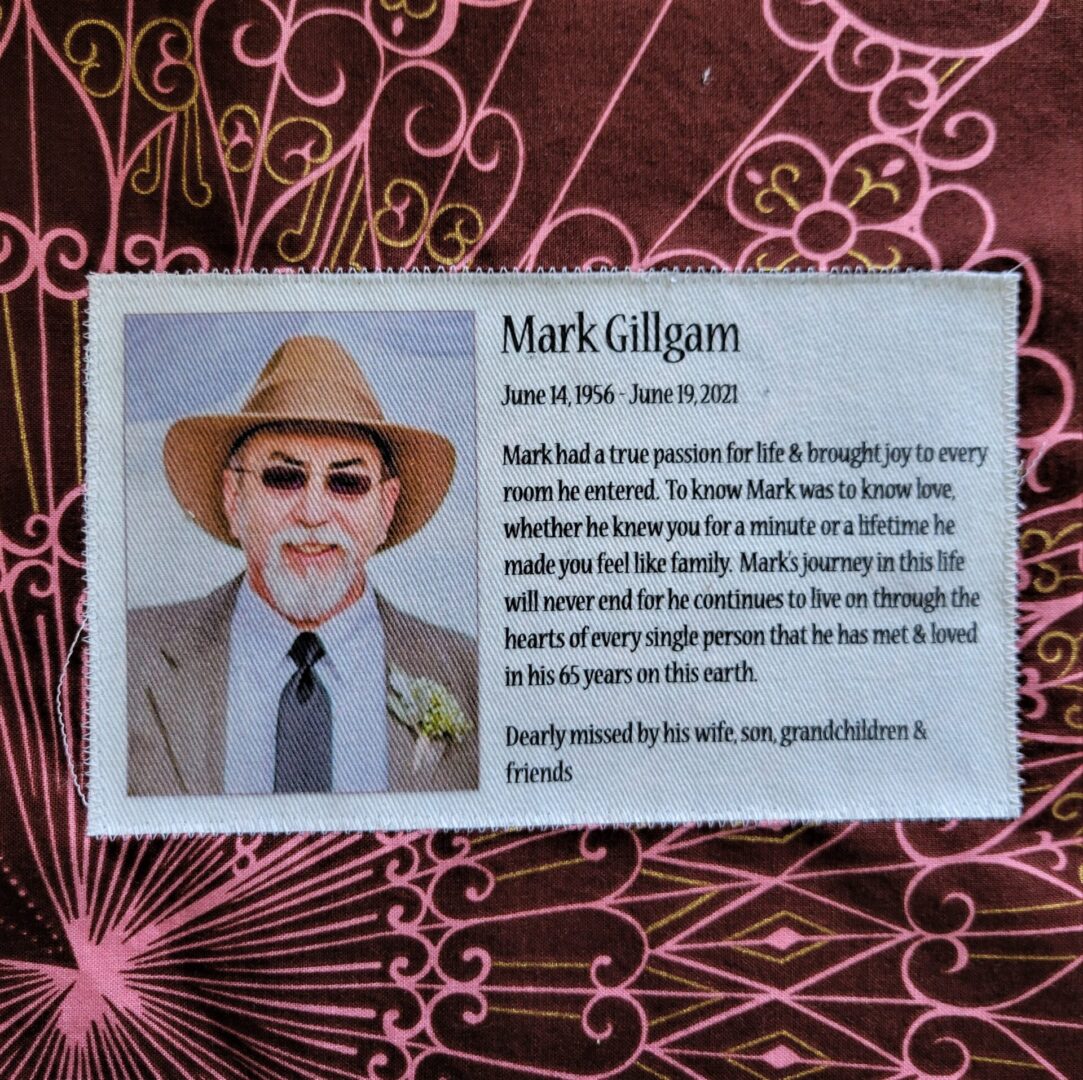 This Memorial Square is to honor and remember Mark Gillgam who died of COVID-19. From his obituary: On June 19, 2021 Mark Gillgam succumbed to his battle with Covid. Mark was born June 14, 1956 in Portland, Oregon. Mark graduated from Marshal High School in 1975. 
After high school Mark started a long career in sales. You may not realize this... any Portland area resident reading this, YOU have been touched by Mark, in an indirect, but inescapable way. If you dine in the Tri-Metropolitan area, you have probably been in a restaurant or bar whose equipment was outfitted by Roses Equipment, where Mark worked for decades; designing, planning, installing all the kitchens, bars, dining rooms. All the grills, French fryers, taps, tables, chairs, etc. All the things which make a restaurant or bar go, are thanks to Mark and his passion and dedication to his customers and restaurants.
This passion was only surpassed by his passion for being a family man and friend, Mark helped coach Arthur through many years of basketball where he is best remembered for reminding everyone to use the glass, even on the baseline. Mark had a true passion for life and brought joy to every room he entered. To know Mark was to know love whether he knew you for a minute or a lifetime he made you feel like family. Mark's journey in this life as we know it will never end for he continues to live on through the hearts of every single person that he has met and loved in his 65 years on this earth.
We will honor and remember Mark on the Covid Memorial Quilt. 
IN MEMORY OF TERRENCE "TERRY" BRIAN TANSKI - SEPT 25, 1956 - JUNE 18, 2021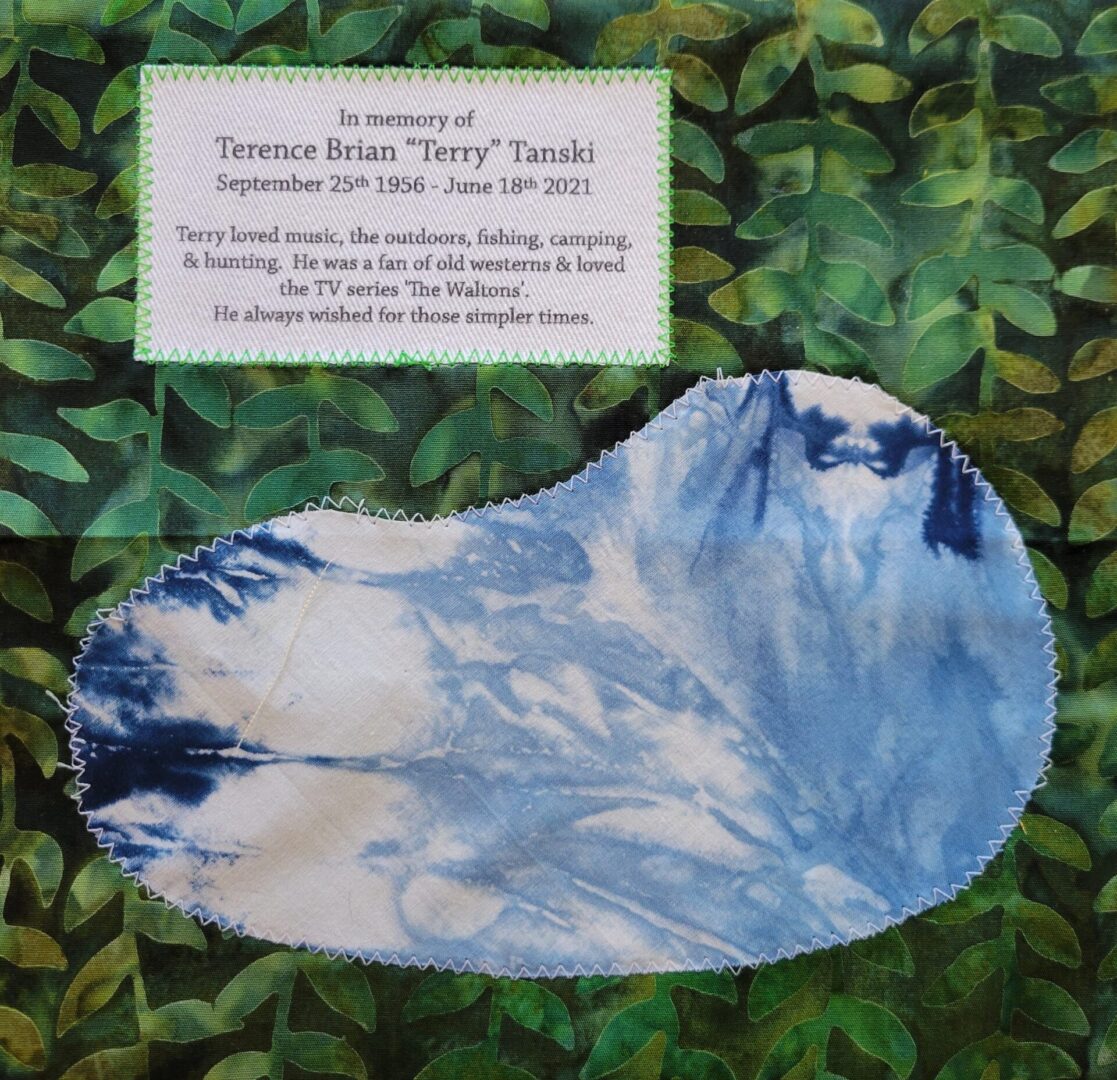 This Memorial Square is to honor and remember Terrence "Terry" Tanski who died on June 18, 2021 after a valiant fight against Covid-19. From his obituary: Terry was born Sept. 25, 1956 in Toronto, Canada and grew up in New York before he moved to Portland, Oregon.
Terry was proud of his work for the City of Portland, first the Forestry Service and then the Water Bureau. He could tell you the Latin name for nearly every tree in Oregon. He loved music, the outdoors, fishing, camping, and hunting. He was planning many fishing trips in his upcoming retirement. He loved working out, had a collection of cookbooks, and was very health conscious. He set aside time every day for bible study as his faith was core to his being. He was a fan of old westerns and loved the TV series 'The Waltons'. He always wished for those simpler times.
We will honor and remember Terry on the Covid Memorial Quilt. 
IN MEMORY OF THOMAS BROOKS SUDDUTH - FEB 4, 1956 - DEC 7, 2020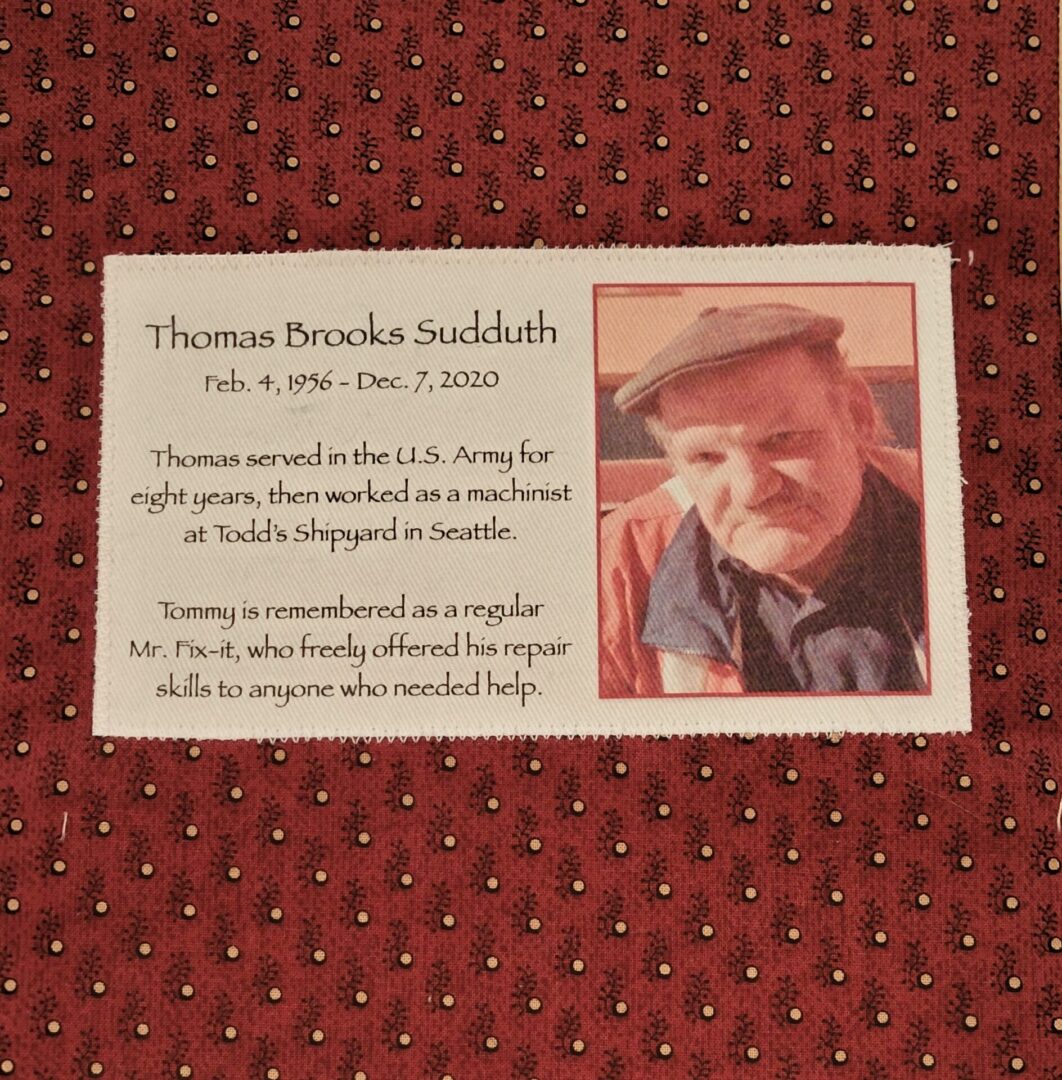 This Memorial Square is in honor and memory of Thomas Brooks Sudduth who died of COVID-19. From his obituary: Thomas "Tommy" Brooks Sudduth, an islander whose well-known family has lived on Vashon since the 1920s, died on Dec. 7, 2020. He was 64 years old. His death, at the Seattle VA Hospital, was caused by acute respiratory distress syndrome with pneumonia and COVID-19 as a contributing factor.
With his death, Sudduth became Vashon's first confirmed fatality linked to the coronavirus — a sad milestone that is also reported in this week's Beachcomber on page 1, as part of Vashon's Emergency Operations Center's weekly situation report.
We will honor and remember Tommy on the Covid Memorial Quilt. 
IN MEMORY OF REMO MINATO - OCTOBER 30, 2020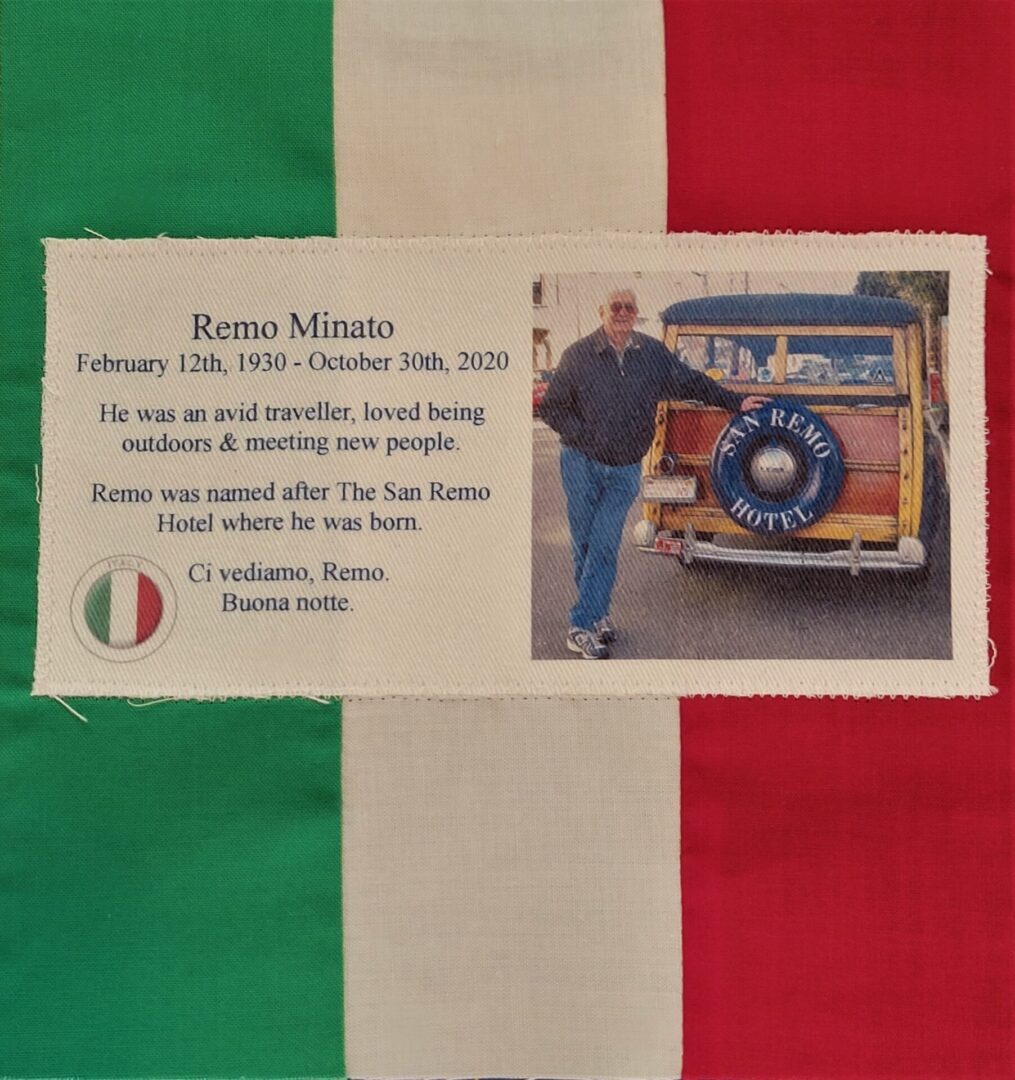 This Memorial Square is in honor and in memory of Remo Minato of Oregon who died of COVID-19. From his obituary: Remo Minato, 90, began his life in Room #1 of the San Remo Hotel in San Francisco on Feb.12, 1930. His parents, Anselmo and Maria Minato, Italian immigrants, had traveled by train from Chiloquin, a tiny Southern Oregon town, so Maria could have an Italian midwife at her bedside. She named her new son after the hotel.
Remo passed away at his home Oct. 30, 2020, of COVID-19 complications. He was a proud Oregonian and spent much of his life traveling its highways and back roads. He knew well its cities, small towns, mountains, parks, rivers and lakes, and passed on his love of Oregon's natural treasures to his children.
Remo made friends wherever he went and never had a harsh word for anyone. He delighted in telling stories about his life, and loved to hear about other's lives. He often told fascinating and detailed stories of the many well-designed roads he helped build on Native American reservations in five western states.
In the words of Leonardo Da Vinci, another great Italian, "Come una giornata ben spesa porta un sonno felice, così una vita ben vissuta dà una morte felice." (As a day well spent brings happy sleep, so a life well lived gives happy death.)
Ci vediamo, Remo.
Buona notte. 
We will honor and remember Remo on the Covid Memorial Quilt.
IN MEMORY OF LYNN BRYAN - MARCH 14, 2020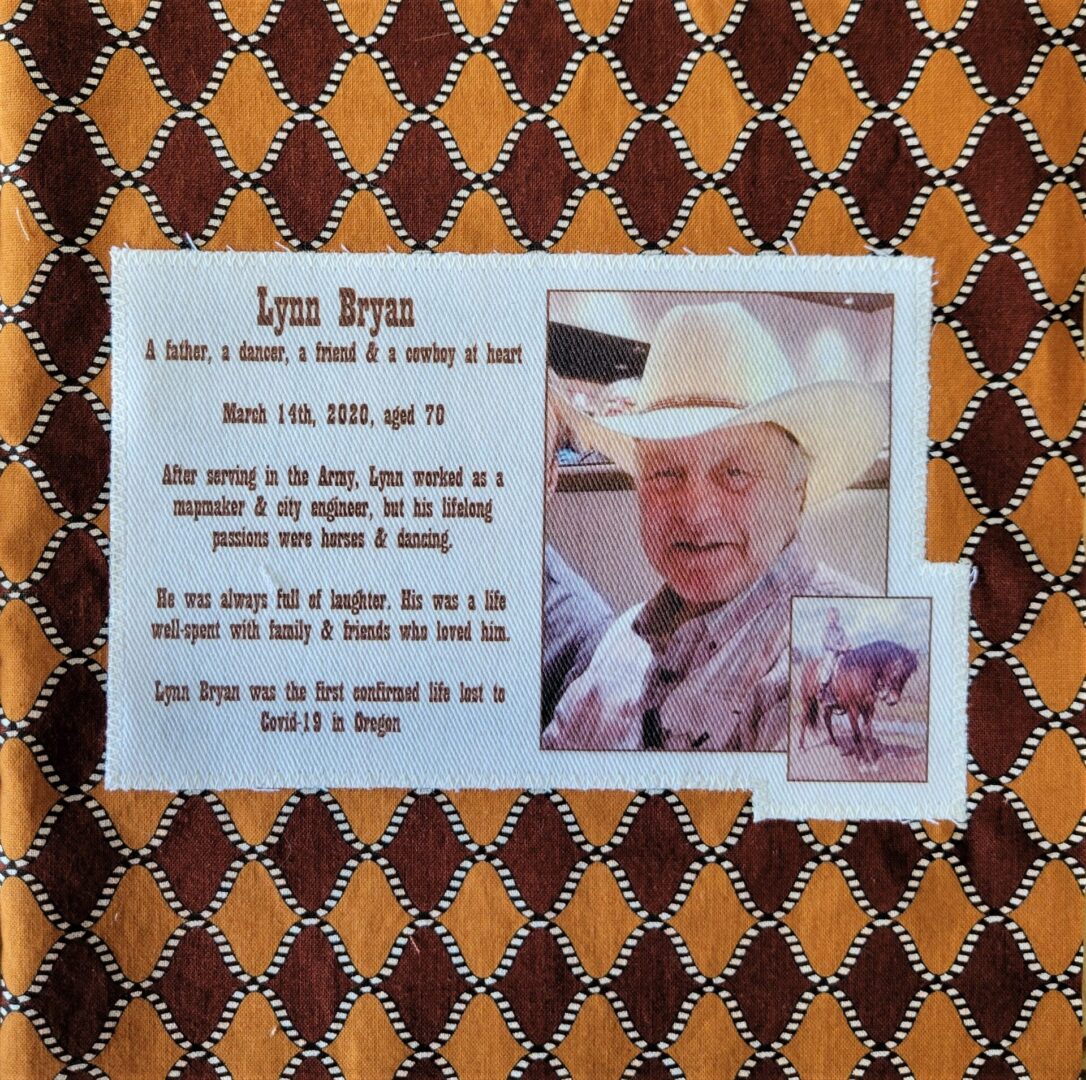 This Memorial Square is in honor and memory of Lynn Bryan who died of COVID-19. From his obituary: Lynn Bryan didn't show up to his regular card game one Sunday afternoon in early March. He didn't answer the phone when his fellow players called. That worried longtime friend Mitchell Cromier. When Cromier went to check, he found Bryan at home in Southeast Portland, lightheaded and having trouble breathing. Twice Bryan fell to the floor.
"I told him don't get up, don't move," Cromier said. He called 911. An ambulance arrived and took Bryan away. It was the last time Cromier would see Bryan, who on March 14 became the first person in Oregon to die from a known case of COVID-19.
A lifelong Oregonian, Bryan grew up in Newberg and served in the Army. He worked a number of jobs over the years, including stints as a mapmaker and city engineering technician. But he was a cowboy at heart. Dancing was his lifelong passion. 
While the two-step was Bryan's forte on the dance floor, he also dabbled in West Coast Swing and other styles. Women enjoyed partnering with him because of his skill and charm, his peers said. "If he had two loves in life they would be dancing and horses," his daughter, Jennifer Bryan, told The Oregonian/OregonLive. "He was also a really good father." He helped run Rock 'N' Rodeo, an iconic country-western club, when he lived in Eugene.
We will honor and remember Lynn on the Covid Memorial Quilt.
IN MEMORY OF EARL EDWARDS - JULY 31, 2020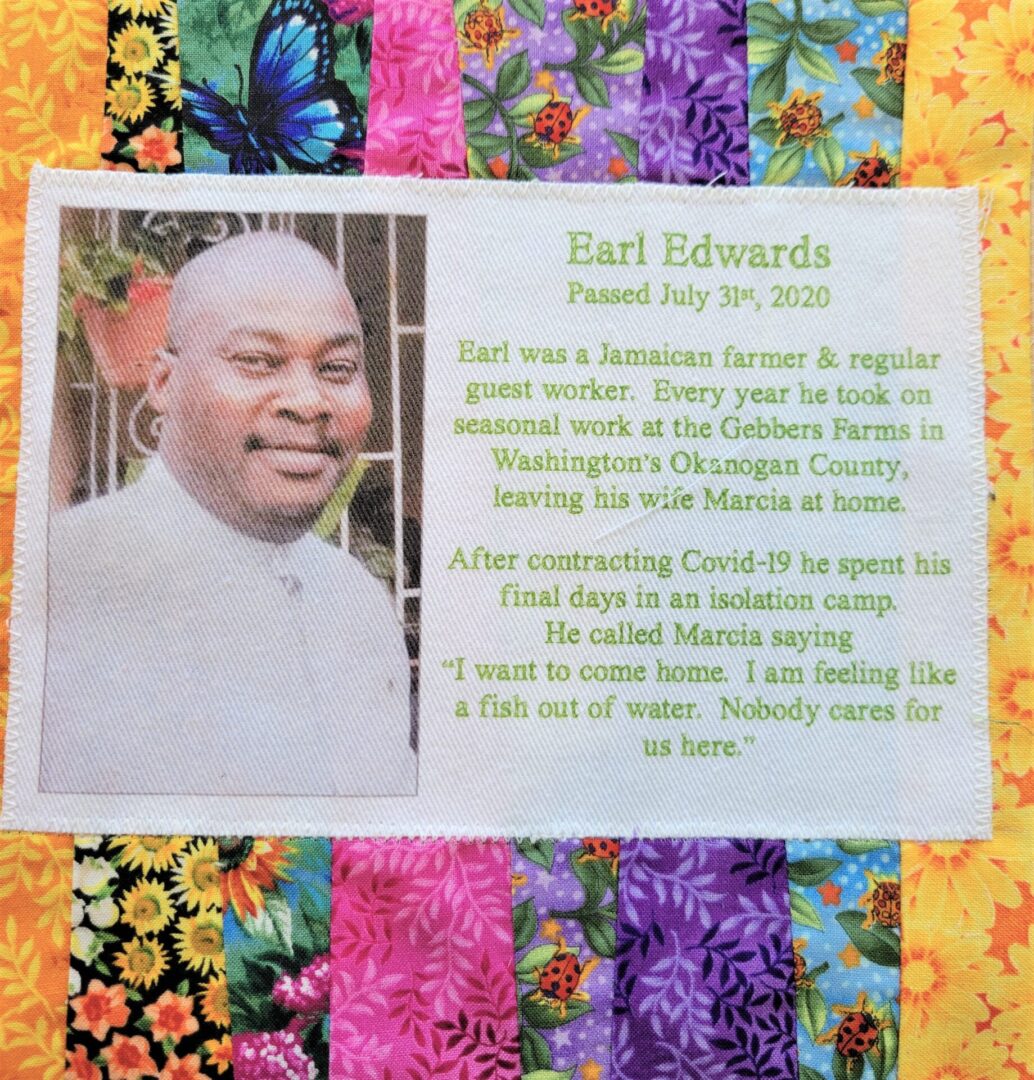 This Memorial Square is in honor and memory of Earl Edwards who died of COVID-19.  From his obituary: Earl Edwards was a Jamaican farmer who in the winter grew ginger, garlic and other crops on his tropical island nation homeland in the Caribbean. For the past decade, he would head north each year for seasonal work at the Gebbers Farms in Washington's arid Okanogan County.
This year, he did so amid a global coronavirus pandemic that sickened him and — on July 31 — took his life. His death is now part of an ongoing state investigation into conditions at Gebbers Farms labor camps.
The 63-year-old spent his final days in an isolation camp, talking several times a day to his wife, Marcia Smith Edwards. He told her he was weak and sick and hoped to return to Jamaica.
"He said, 'I want to come home. … I am feeling like a fish out of water. … Nobody cares for us here,'" Marcia recalls.
Edwards' widow is grieving, and she is angry. She says her husband should have been monitored more closely by a doctor or other trained medical professional at the isolation camp, and that Gebbers Farms should have offered him more support.
Edwards' death due to COVID-19 complications — confirmed to The Seattle Times by the Okanogan County coroner — is the second coronavirus death of a guest worker employed at Gebbers Farm. 
We will honor and remember Earl on the Covid Memorial Quilt. 
IN MEMORY OF KIM FORN LUEY - SEPT 11, 1941 - NOV 25, 2020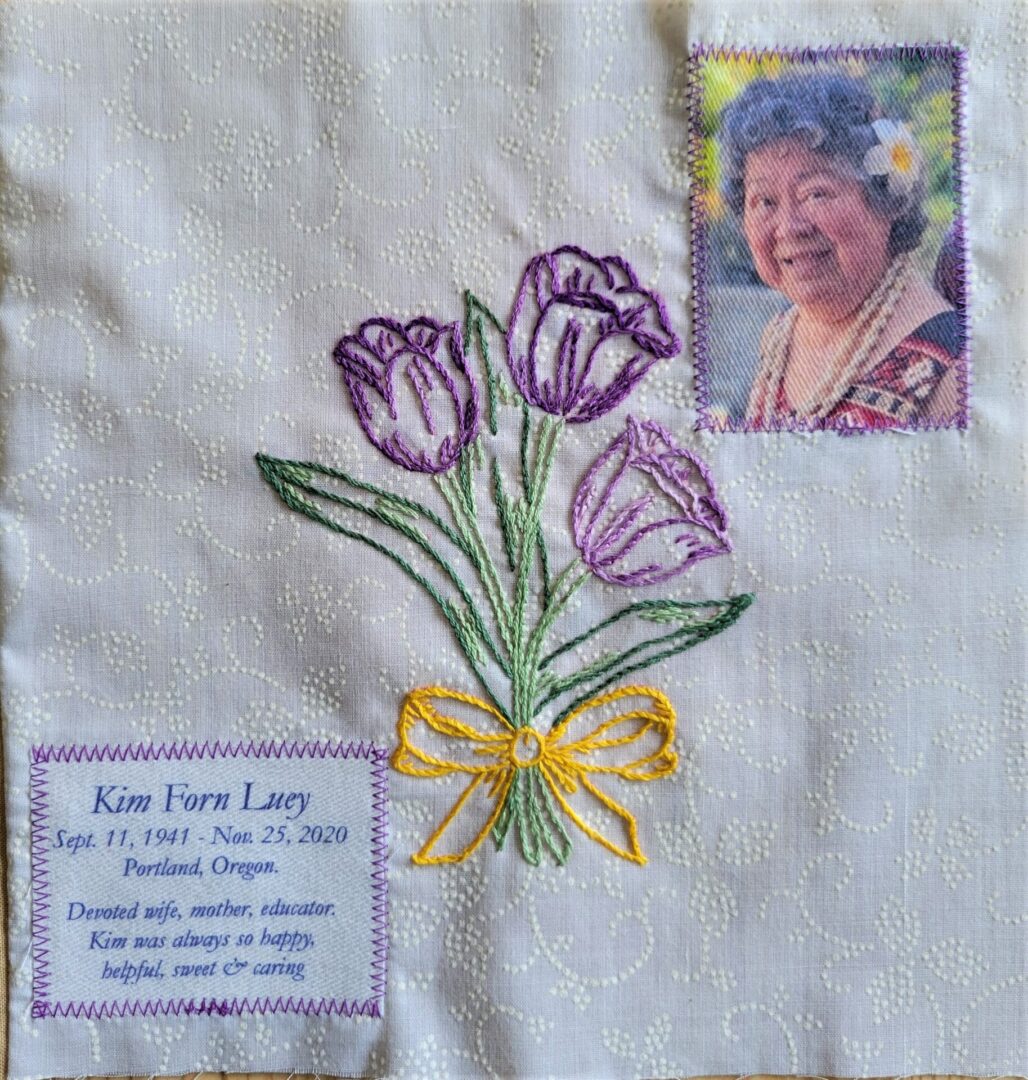 This Memorial Square is in honor and in memory Kim Forn Luey who died of COVID-19. From her obituary: Kim Forn Luey of Portland passed away at the age of 79 from complications due to COVID-19. She was born in Guangyang Village, Toisan, Guangdong, China, to Wing Jung and Poy King Lee.
The family immigrated to Portland in 1947, where Kim graduated from Franklin High School. She earned her BA in education from the University of Oregon in 1963, married her husband Jimmie in 1964 and raised four boys.
She worked nine years as a tour guide at Alpenrose Dairy starting in 1977 and then was a substitute teacher for the Beaverton school district for 19 years. Kim spent 4,300+ hours volunteering at the Lan Su Chinese Garden starting in 2000. 
We will honor and remember Kim on the Covid Memorial Quilt.
IN MEMORY OF DANIEL RIAN - MARCH 12, 2020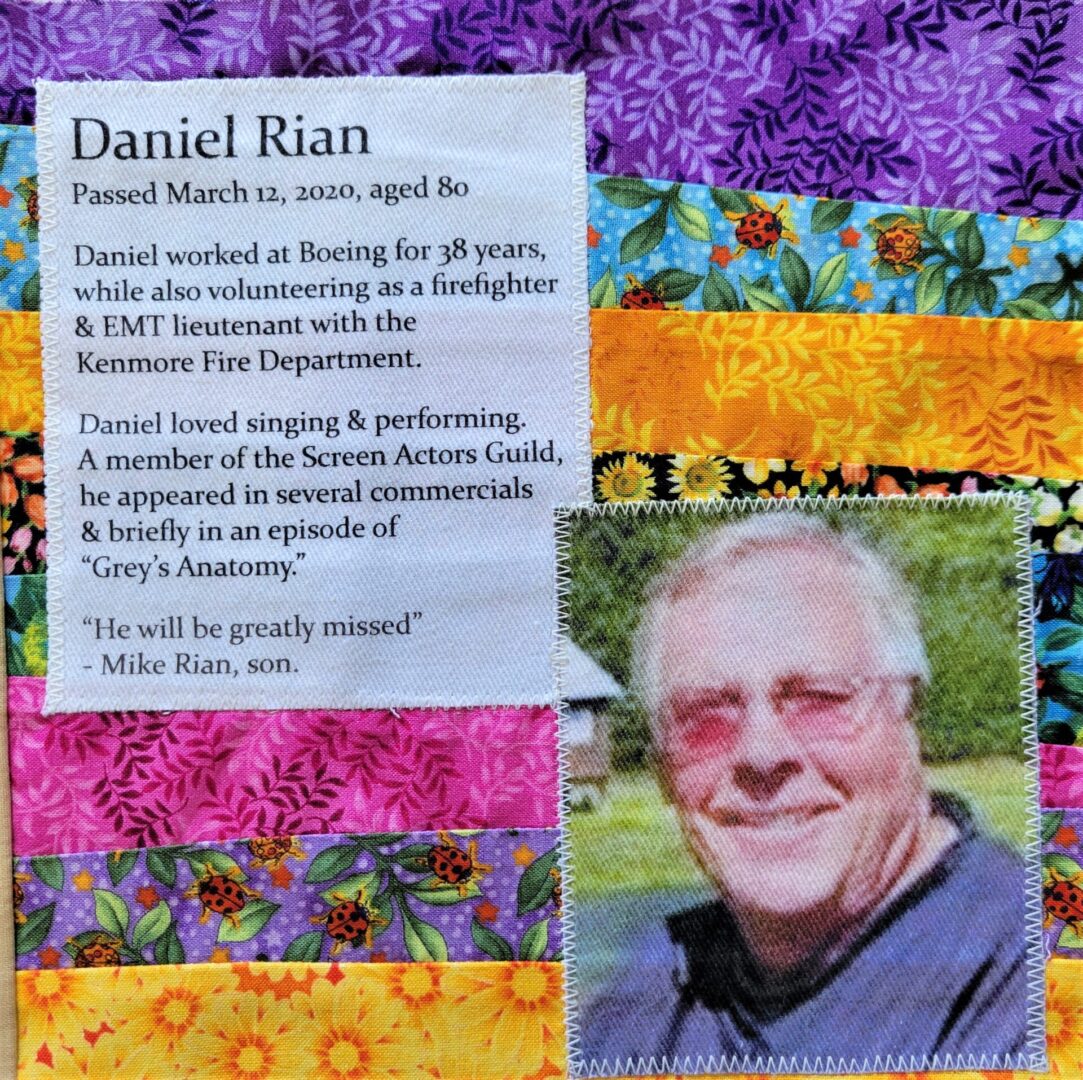 This Memorial Square is in honor and memory of Daniel Rian who died of COVID-19. From his obituary: Daniel Rian loved singing and performing, and spent a lifetime giving to others. "He was very gregarious and outgoing and loved life, and giving back was a huge part of his personality," said son Mike Rian.
Rian worked at Boeing for 38 years, where he managed surplus in Kent, while also working as a volunteer firefighter and EMT lieutenant with the Kenmore Fire Department. He and his wife, Suzanne, were active in local theater. The couple was known as the "The Doo-Wops."
Son Mike remembers hanging out as a kid at the police station, and the fire station, "where my dad was a lot."  "I remember him doing shift work around the clock (for the fire department) while he was doing his other job," Mike Rian said. "That's a hard thing to do and a pretty significant commitment."
Some of Mike's fondest recollections are when his father would pick up legendary Seattle clowns J.P. Patches and Gertrude for appearances in local parades. "Our vehicle was in the parades, which was an old Model A truck that converted into a fire truck," said Mike Rian, who got to go along and, like his father, dressed up as a clown for the events.
"We were the total rebels of the parades. My dad and his buddies — all firefighters — were notorious for never going by what the parade person told them to do. 'Here's your slot in the parade.' Nah. As soon as the parade started, we would just go up and down the entire parade, spraying people and throwing candy to the kids."
Rian, who lived in Bothell, died March 12 from complications of COVID-19, the disease caused by the novel coronavirus. He was 80. 
We will honor and remember Daniel on the Covid Memorial Quilt. 
IN MEMORY OF ALL VICTIMS OF TRIBAL NATIONS IN OREGON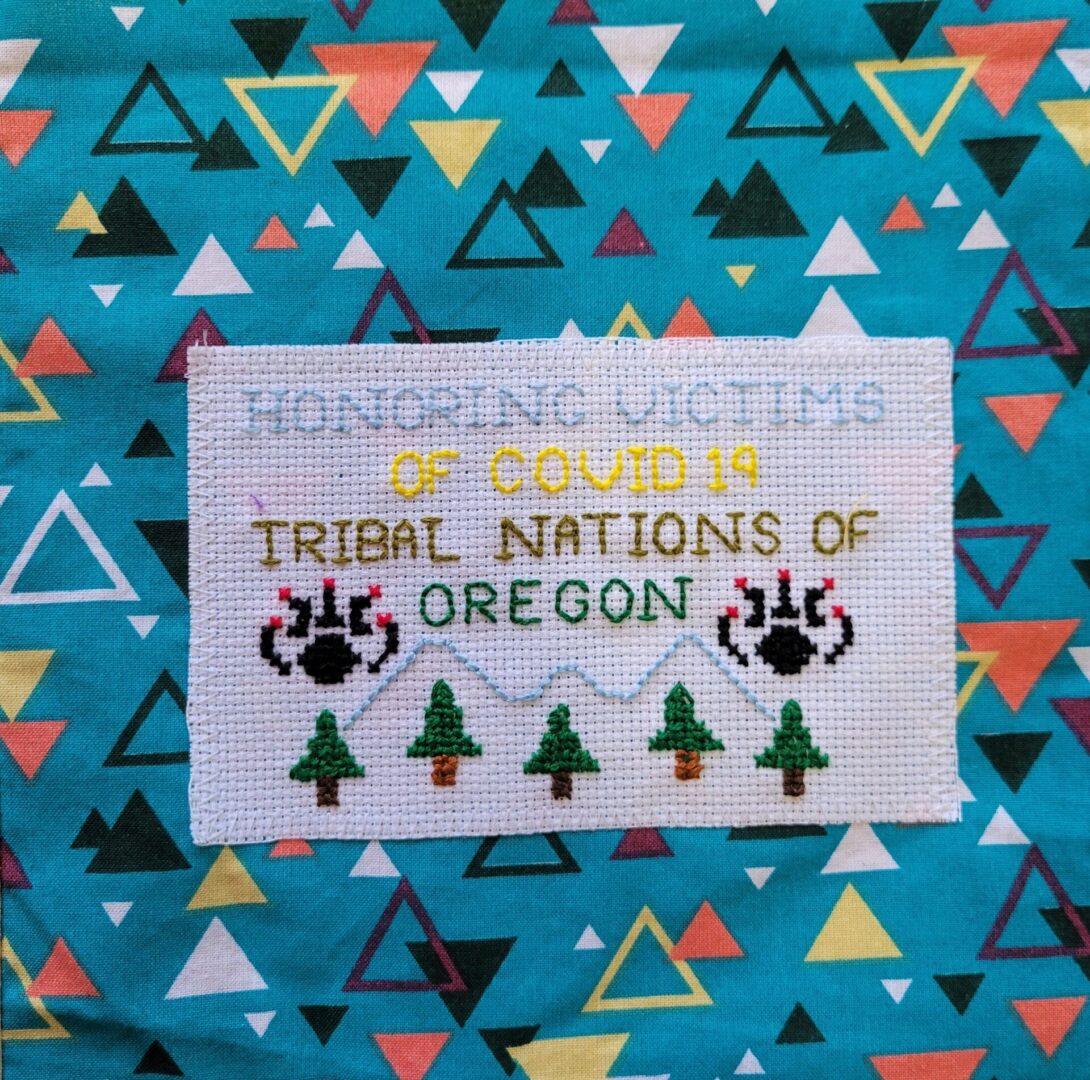 This Memorial Square comes to us from Joan in California in honor and memory of all the victims of COVID-19 in the tribal nations of Oregon.  her sister, Judith Daphne Catz, who died of COVID-19. Oregon today is home to nine federally recognized tribal nations, plus several unrecognized tribes. These modern tribal governments each include members descending from multiple tribes and bands.
We will honor and remember all the victims of the tribal nations of Oregon on the Covid Memorial Quilt. 
IN MEMORY OF JODY ANN WRIGHT - DEC 9, 1954 - JUNE 3, 2021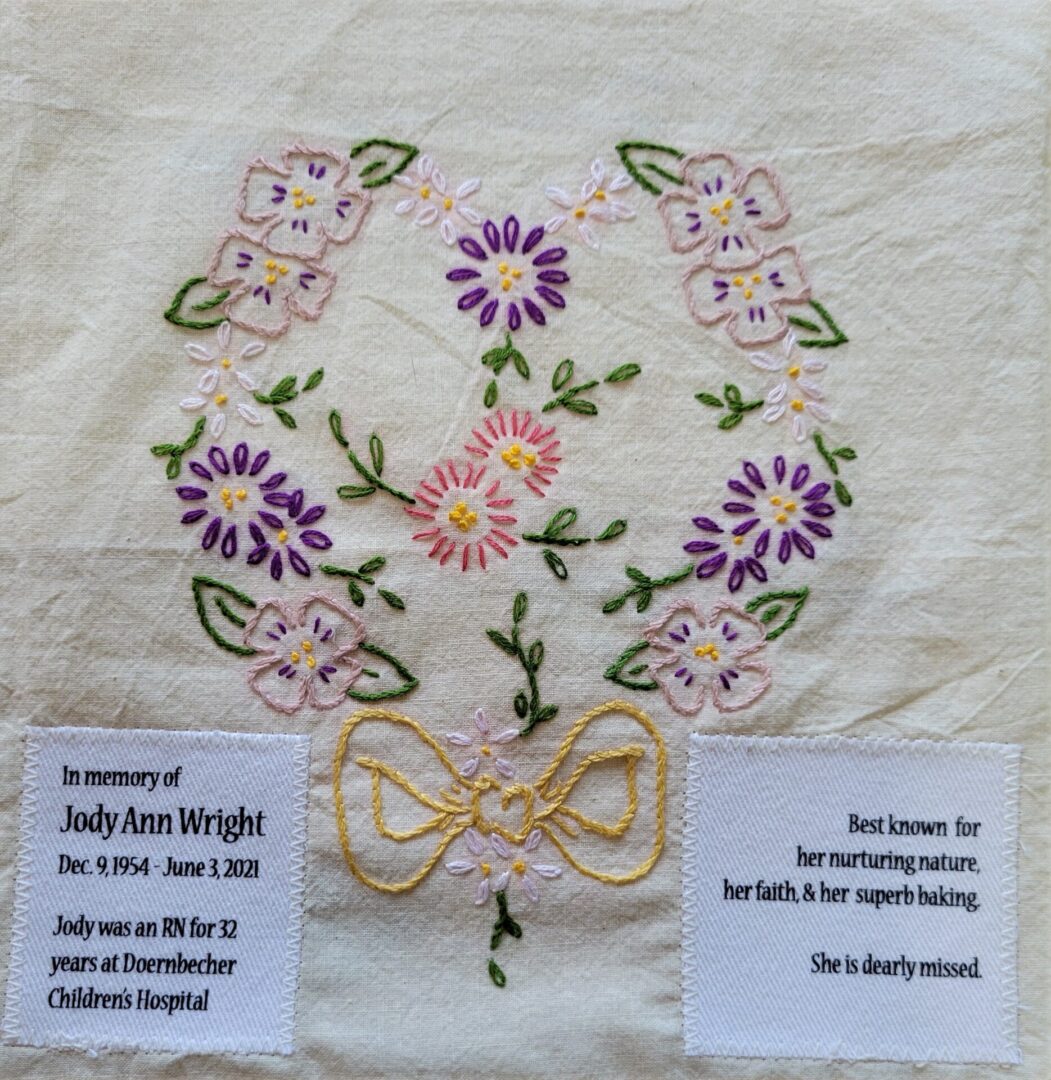 This Memorial Square is in honor and memory of Jody Ann Wright who died of COVID-19. From her obituary: Jody Ann Wright passed from Covid June 3, 2021, age 66. She is missed by her husband, Scott; children, Joel and Bethany; mother, Marlene; siblings, Carrie, Sally and Tom; and many more friends, family, and co-workers.
Jody grew up in Astoria and moved to the Portland area to become an RN for 32 years at Doernbecher. She was active in her church, volunteering as a greeter and camp nurse. Jody was best known for her nurturing nature, her faith, and her superb baking.
We will honor and remember Jody on the Covid Memorial Quilt. 
IN MEMORY OF MARCIA HAUG - MARCH 22, 2020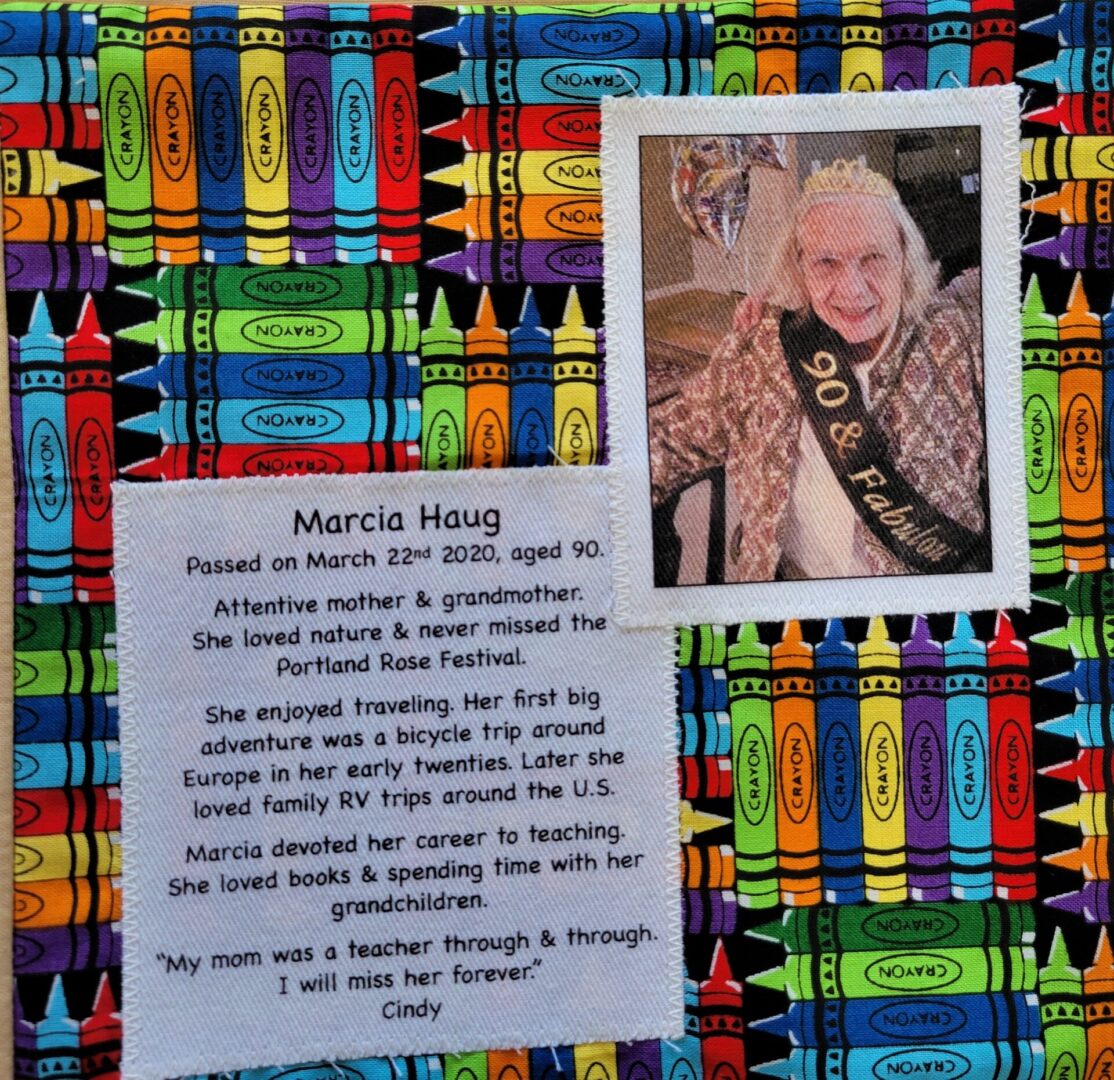 This Memorial Square is in honor and memory of Marcia Haug, who died of COVID-19. From her obituary: Marcia Haug -- a 90-year-old mother to three and grandmother to seven – traveled through Europe by bicycle when she was in her 20s, loved nature, made it a point never to miss a Rose Parade and "was a teacher through and through."
Marica died on a Sunday after suddenly coming down with a fever and bad cough three days earlier. She hadn't complained of any ailments that Thursday afternoon but began to show symptoms by nightfall. Staff at the assisted living center where she lived just west of Portland's city limits called one of her daughters and asked how she wanted to proceed. 
Daughter Cindy Madden summoned an ambulance and Marcia was taken to the hospital where medical  gave her a COVID-19 test. It came back positive early Saturday morning and doctors told Marcia's family that same day that they were switching gears to provide "comfort care." The next day, Marcia died. Because of concerns about spreading the disease, Marcia's family wasn't allowed at the hospital to say goodbye so medical staff arranged FaceTime. "I think mine was about two minutes," her daughter said. "Nonetheless, it was priceless." 
Marcia grew up in Minneapolis. While enrolled at the University of Minnesota, she spent her summers waitressing at Yellowstone and Glacier national parks, which fed her love for nature. Right after graduating with a teaching degree, she moved to Oregon to spend her career as a Portland Public Schools teacher, including a long stint at Faubion School in Northeast Portland.
Her mom loved to travel -- "her first big adventure was a bicycle trip around Europe in her early twenties" -- and she encouraged her children and grandchildren to do the same, Madden said. 
"My parents never missed a Portland Rose Parade. They would park the RV on the route and host the grandchildren overnight to save their spot. It was a rite of passage for the grandkids to be invited to stay the night. The night before always included fresh Oregon strawberry shortcake."
We will honor and remember Marcia on the Covid Memorial Quilt.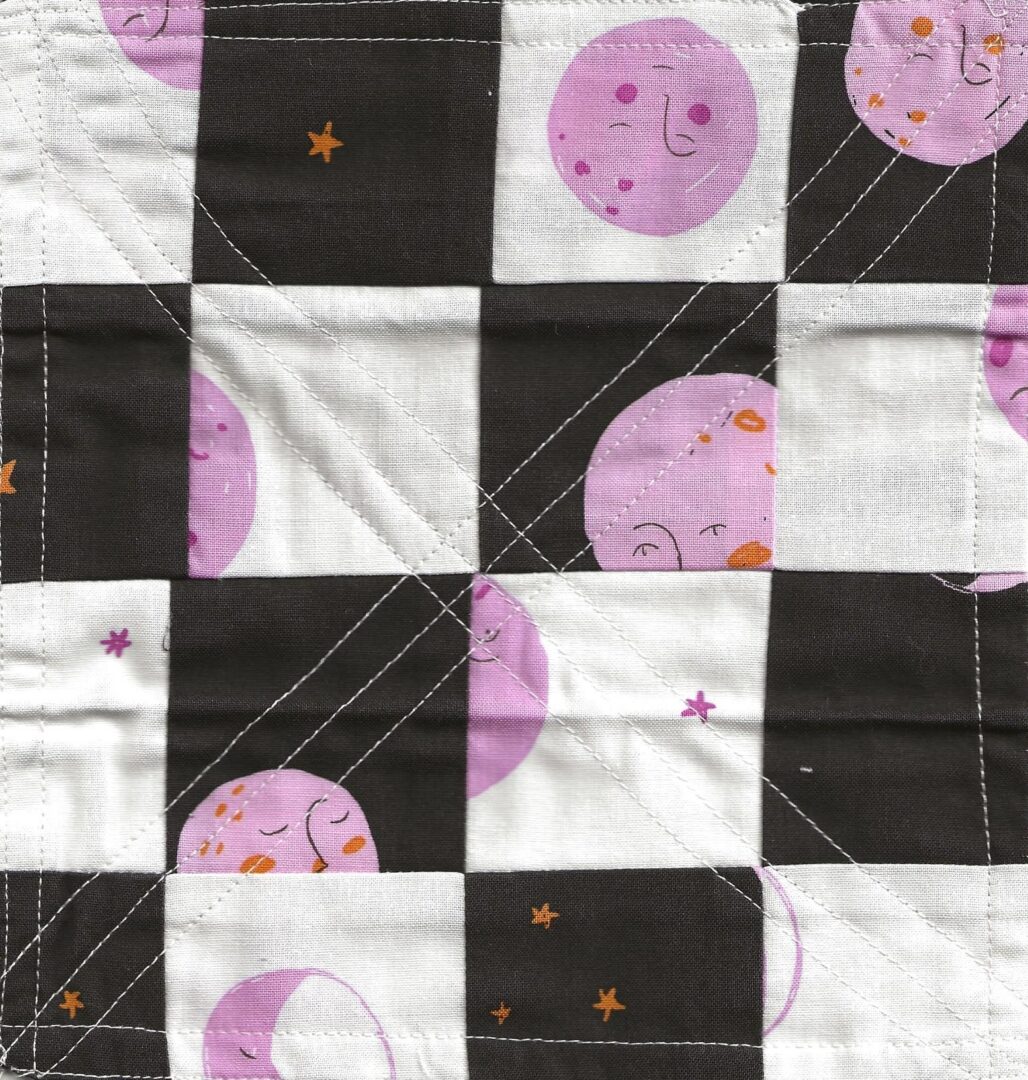 This Memorial Square comes to us from Anonymous in California. We received this Memorial Square with no letter inside. We have received anonymous Memorial Squares before and although we do not know the story behind this handmade Memorial Square, we do know there is a story behind every Memorial Square - behind each Memorial Square is a person, and behind that person is a family and loved ones left behind who have also been deeply affected by COVID-19. We will honor and remember them all on the Covid Memorial Quilt.   
IN MEMORY OF DR SHELDON SCHORE - MARCH 18, 1934 - AUGUST 2, 2020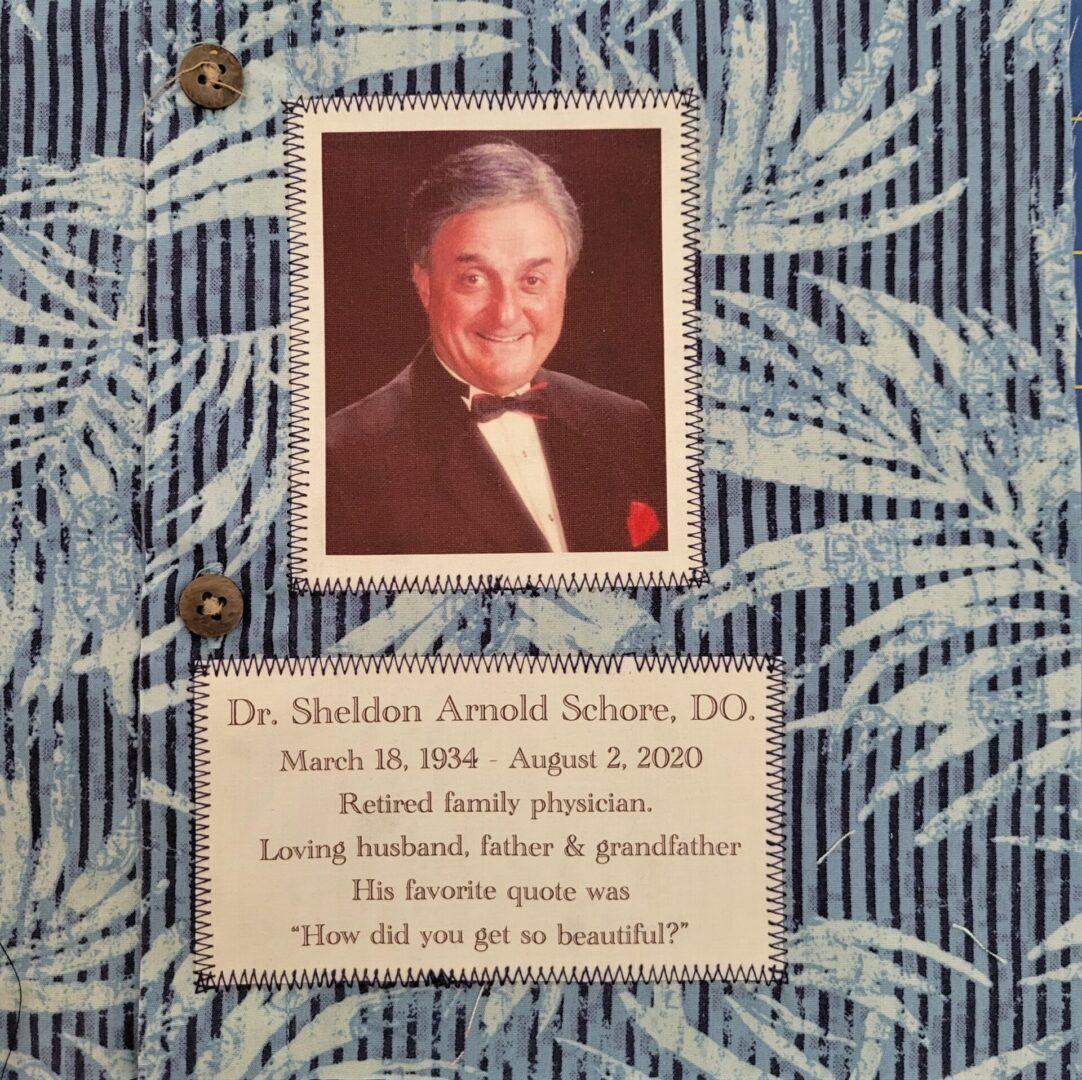 This Memorial Square comes to us from Ilise in California in loving memory of Dr. Sheldon Schore of Nevada, who died of COVID-19. Ilise is making this Memorial Square on behalf of her sister and brother-in-law. Ilise has given us a shirt worn by Dr. Schore, which you see posted here. Ilise has asked us to use material from his shirt to make a Memorial Square and to add his name, dates of life and his favorite quote: "How did you get so beautiful?"
From his obituary:
Sheldon was born on March 18, 1934 in Detroit, MI to Sarah (nee Green) and Henry Schore and was a Las Vegas, Nevada resident for 25 years. Sheldon is preceded in death by his parents and his beloved wife, Karen Ruth Schore. He is survived by his daughter, Andrea Gordon (Richard); son, Neal Schore (Beth); and five grandchildren, Drake Gordon, Scarlett Gordon, Jordan Schore, Jared Schore, and Drew Schore.
We will honor and remember Dr. Schore on the Covid Memorial Quilt.
IN MEMORY OF GENEVIEVE MARTINEZ - JANUARY 17, 1958 – JULY 22, 2020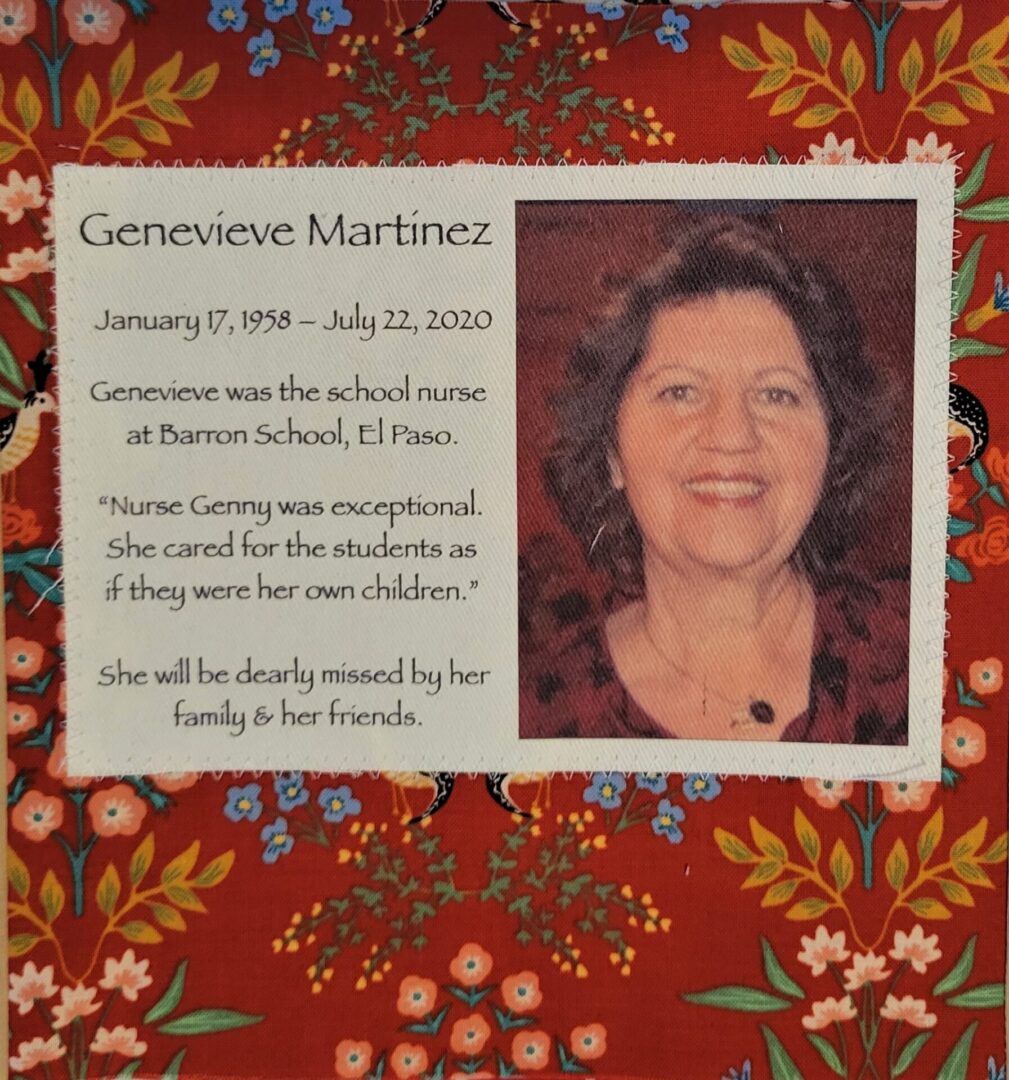 This Memorial Square comes to us from Kaitlyn in honor and memory of her mother, Genevieve Martinez, a school nurse in Texas, who died of COVID-19 on July 7, 2020.
"Nurse Martinez was an EXCEPTIONAL school nurse. She cared for the students as if they were her own children. She will be dearly missed." "I was a co-worker with nurse Genny at Barron school. She was the most caring person I have ever known. May God give the family the strength to deal with their loss. Prayers continue going your way. Will forever be missed." "She was a kind hearted woman who loved her family with all her heart. It was a pleasure to know her and know she is finally at peace."
We will honor and remember Genevieve on the Covid Memorial Quilt. 
IN MEMORY OF KACI LYNNE LOUX - AGE 15, MAY 22, 2021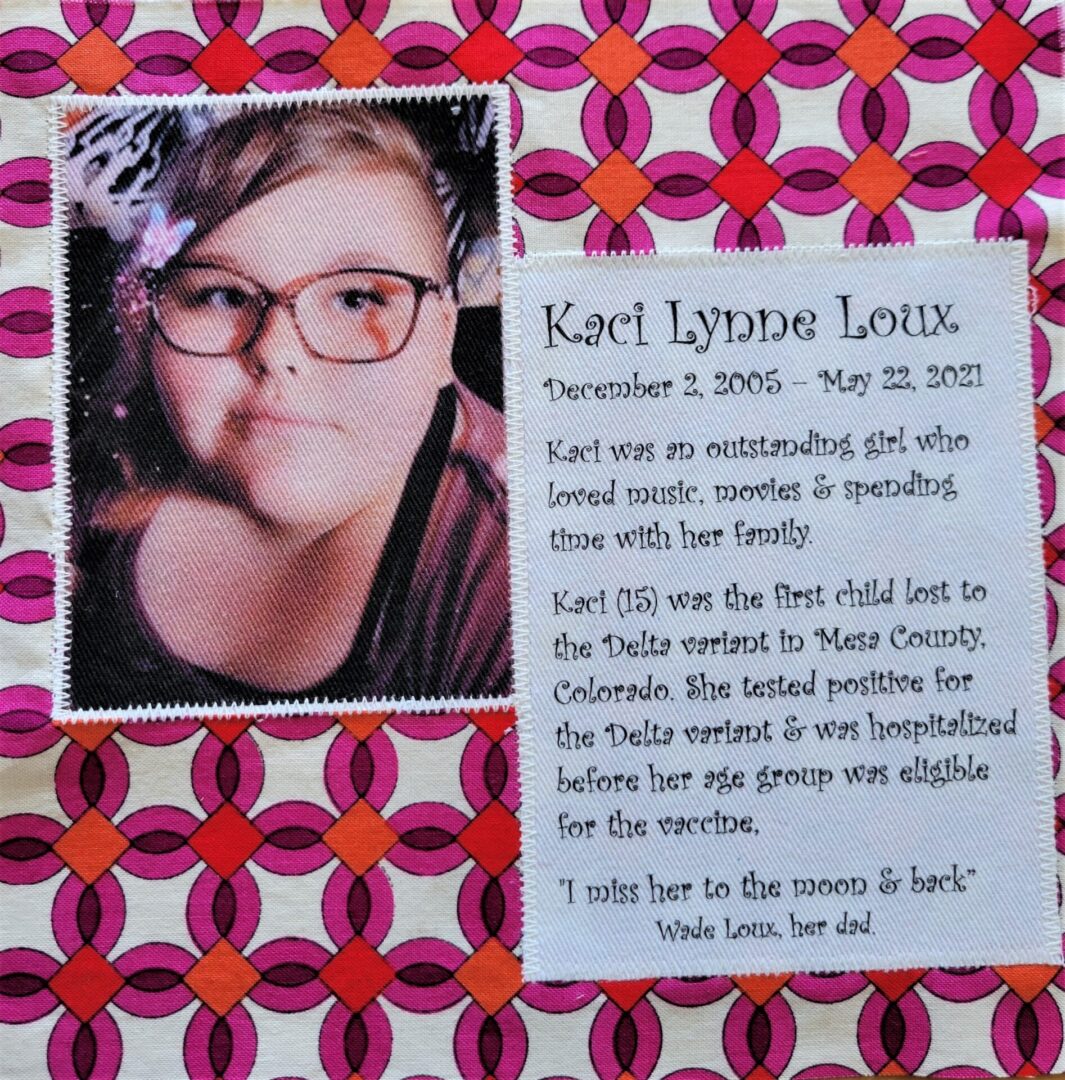 This Memorial Square comes is in honor and memory of Kaci Loux of Colorado who died in May, 2021, at age 15 of the Delta variant of COVID-19. From an article: The family of 15-year-old Kaci Loux is remembering her silly and sweet personality.
She loved music and movies, and she was always taking selfies with her cat named Angel. She also enjoyed spending time with her mom, dad and two younger sisters.
"I'm still having a hard time on believing what happened, it feels like she's just going to walk through the door and I'm going to see her but I know that's not the case," said Shilynne Loux, the teen's mom.
Shilynne Loux said her daughter is the first reported COVID-19 related pediatric death in Mesa County, Colorado. The county previously sent out a release stating a female Mesa County resident age 10-19 died after testing positive for the delta variant.
According to Mesa County Public Heath, she was hospitalized before her age group was eligible to receive the COVID-19 vaccine.
Cases of the delta variant are skyrocketing in several states, including Colorado and most of those cases are in Mesa County. The variant is believed to be more transmissible and as it spreads, health experts warn about the risk to young children who are not vaccinated. Shilynne said her youngest daughter got COVID-19 in April and it spread throughout the entire family, but only Kaci was hospitalized.
"It progressed pretty fast," Shilynne said. "She was complaining that she couldn't breathe."
She said Kaci started running a high fever, and by the time she took her daughter to the doctor, Kaci's condition worsened. She was airlifted from Grand Junction to Children's Hospital Colorado in Aurora. Kaci was in the ICU for more than three weeks, but Shilynne said at one point it seemed like her daughter was improving.
"I went with her and we're up there probably three and a half weeks and I see you and then they're getting ready to put her into recovery and then everything just went to hell, pretty much."
Shilynne said her daughter went into cardiac arrest and passed away after nearly a month in the hospital. She has this message for other parents if they believe their child is getting sick.
"Don't wait, don't wait. Take him in ASAP because if you wait it gets 10 times worse and it will shut their lungs down fast."
A 15-year-old girl with so much life ahead of her and a family that misses her dearly. 
"She was so loved."
We will honor and remember Kaci on the Covid Memorial Quilt.   
IN MEMORY OF DAVID R. GONZALES - NOVEMBER 11, 1958 - AUGUST 2, 2020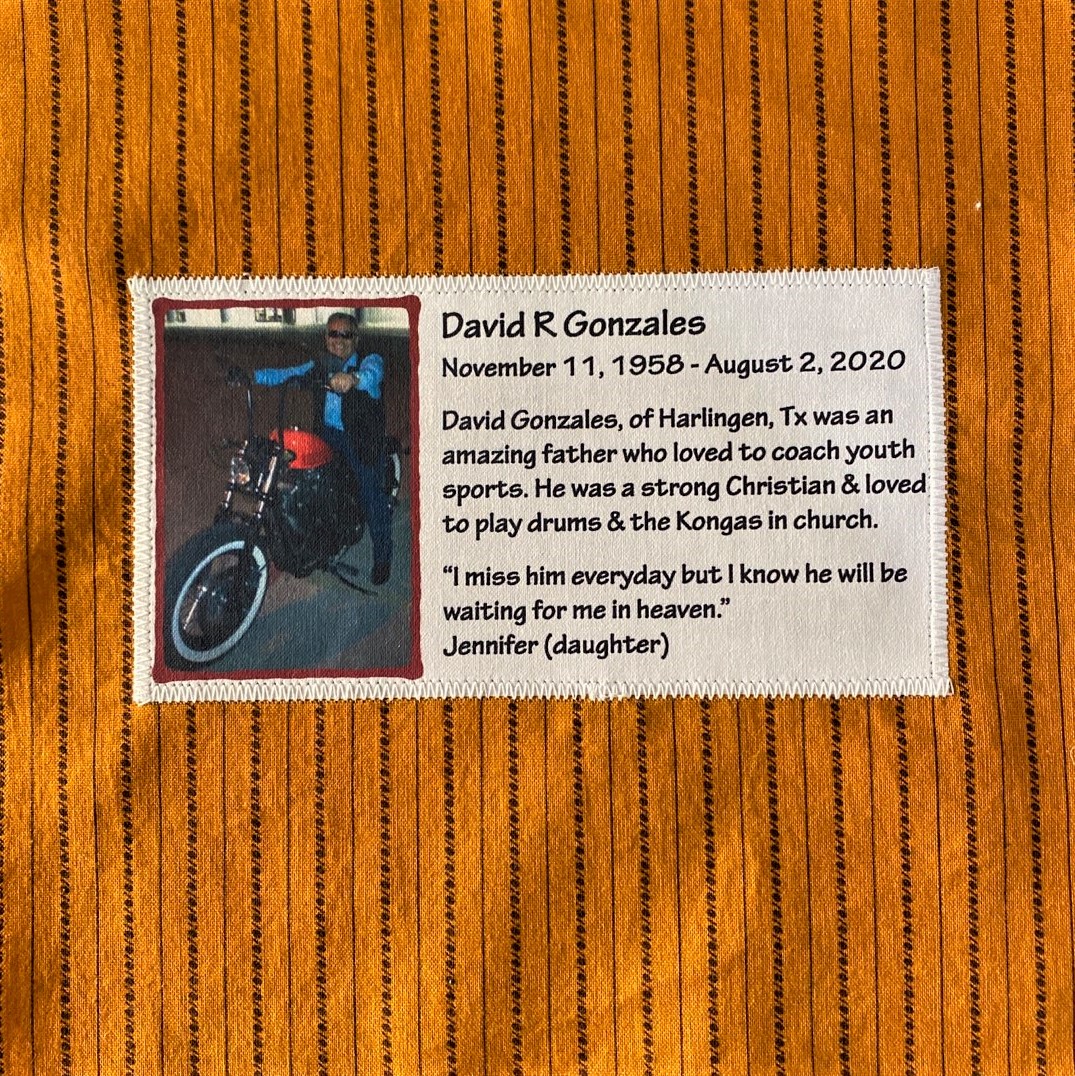 This Memorial Square comes to us from Jennifer in Texas in honor and memory of her father, David R. Gonzalez, who died of COVID-19.  Jennifer writes: 
This is my father, David R Gonzales, of Harlingen, Tx. He was an amazing father who loved to help coach youth sports as well as a strong Christian, God fearing man. He was a father to 3, two daughters and 1 son. He loved to play the drums and the Kongas in church. I miss him everyday but I know he will be waiting for me in heaven. Thank you so much for doing this. You are a very special young women.
We will honor and remember David on the Covid Memorial Quilt. 
IN MEMORY OF GERALDINE "JERRY" GORMLEY - AUGUST 2, 1923 - APRIL 11, 2020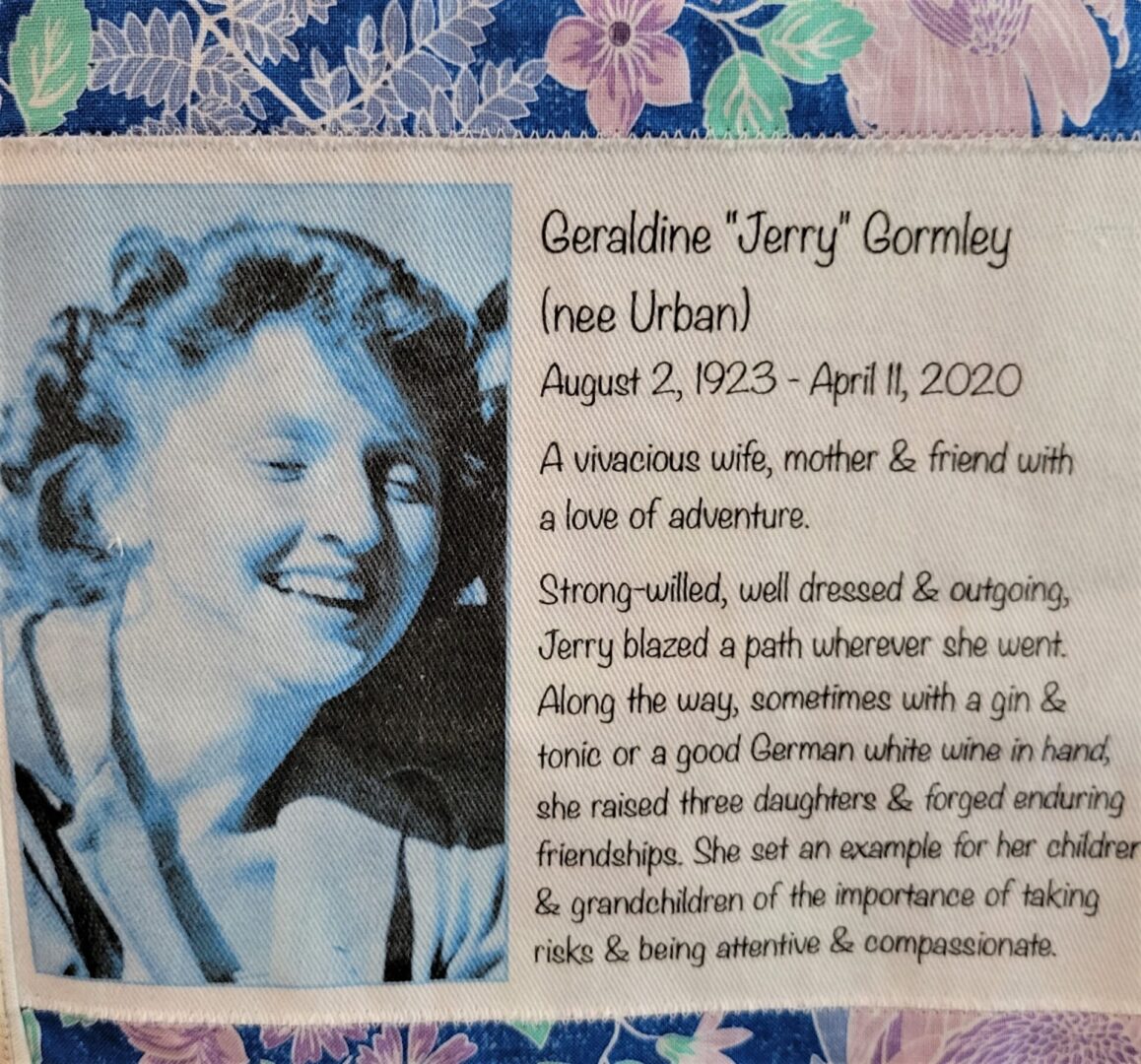 This Memorial Square is in honor and memory of Geraldine "Jerry" Gormley of Washington, who died of COVID-19 on April 11, 2020. From an article sent:
Geraldine Gormley's numerous adventures left behind a trail of memories and lifelong friends. Strong-willed, well dressed and outgoing, Gormley blazed a path from her hometown of Portland to Alaska and Germany before she landed in Edmonds.
Along the way, sometimes with a gin and tonic or good German white wine in hand, she raised three daughters and forged enduring friendships, and set an example for her children and grandchildren of the importance of taking risks and being attentive and compassionate to others.
Gormley, who lived at Edmonds Landing retirement and assisted living facility, died April 11 of COVID-19. Sunday would have been her 97th birthday.
Her adventures began when she became the first woman in her family to graduate from college, earning a degree in business and industry from Oregon State University in 1945. She took a job with the Department of Fish and Wildlife in Juneau, Alaska, and moved there sight unseen, knowing nobody.
Family lore says that while Gormley was renting a room at the Baranof Hotel in Juneau, she approached her future husband, Matt Gormley, at the hotel bar: "And what is your name?"
"She was not a shy girl," said her daughter, Darlene Stanton.
The young couple took advantage of what Alaska offered — skiing, hunting and fishing.
Matt Gormley's job pulled him away from their home on Douglas Island across the Gastineau Channel from Juneau for long stretches. In his absence, Geraldine Gormley and their three young daughters spent time at the beach and in the woods surrounding their house. They explored together even amid the extreme weather and earthquakes of Alaska — their mother somehow made it look easy, said daughter Patricia McGraw.
"She gave us a spirit of risk-taking balanced by self-restraint," McGraw said. "We learned to live close to the edge."
Gormley also taught business at the local community college, and every two years worked as a legislative assistant in Juneau, Alaska's capital city.
She called her three children and four grandchildren nearly every week, sent letters and never missed a birthday.
During these regular conversations, Gormley always remembered every little detail about what was going on in the lives of her loved ones and was quick to give glowing updates about cousins, in-laws and friends, said granddaughter Andrea Stanton.
"She worked very hard to keep in touch with us and always remembered what we were up to, even the details of things I was working on or little things my kids were doing," she said.
McGraw said the family called Gormley "the interrogator" because she subtly and easily pulled out whatever information she was after.
McGraw said her mother's passing came as a shock, despite her age, because Gormley's mother lived to be 104.
"We all planned on having her at least to 104 and, we hoped, longer," she said. "I think we are all still stunned that she is gone."
We will honor and remember Geraldine "Jerry" on the Covid Memorial Quilt.
IN MEMORY OF RAMI SAMMAN - 1/25/1980 - 5/10/2020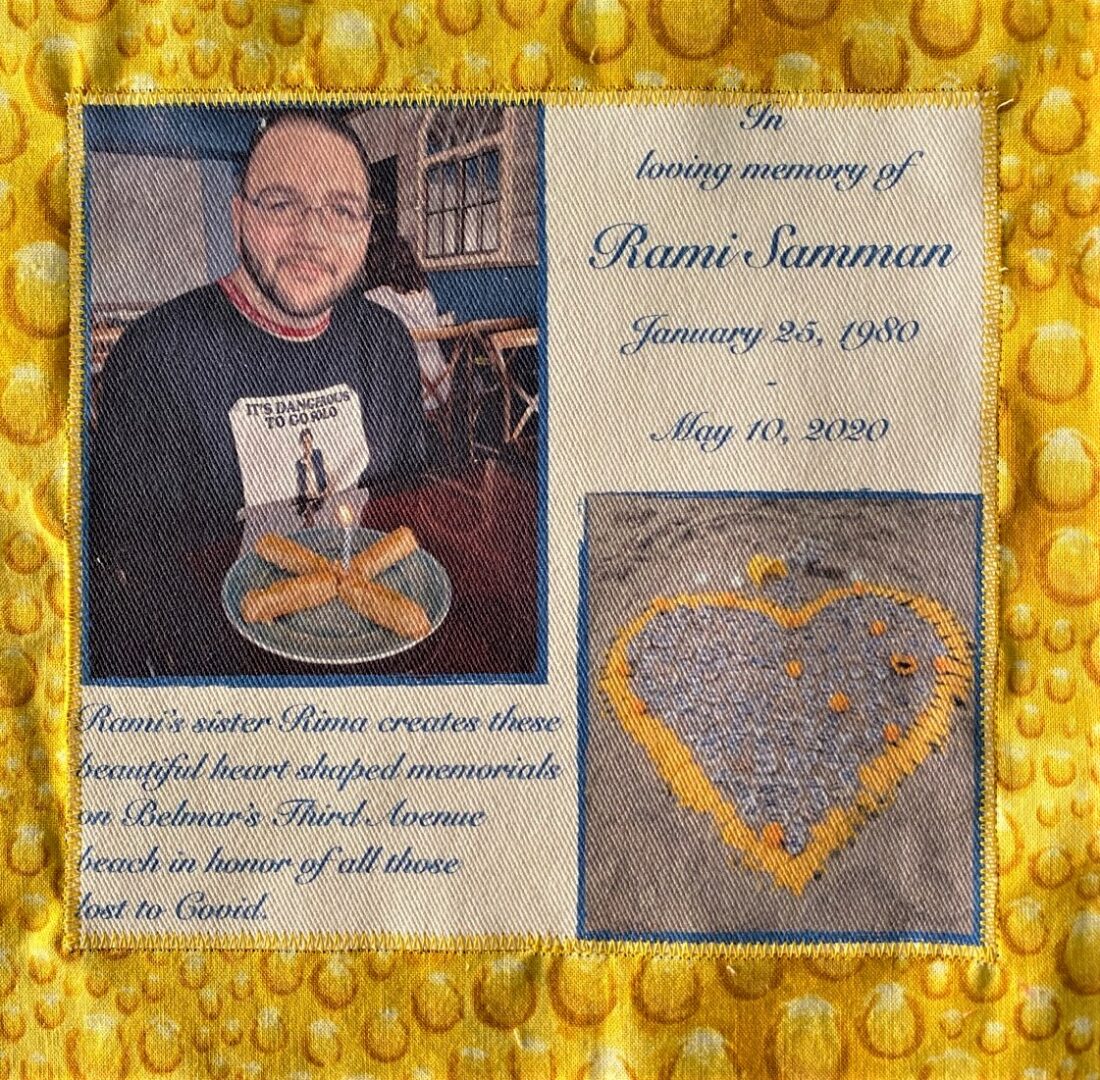 This Memorial Square comes to us from Rima in New Jersey in honor and memory of her brother, Rami Samman, who died of COVID-19. Rima writes: I miss him dearly.
From an article: BELMAR, NJ — It may be the middle of winter, but a special display of love is blossoming on Belmar's Third Avenue beach — a heart of seashells filled with memorial rocks bearing the names of loved ones lost to the coronavirus.
It all started after sunset on Monday, January 25 when Rima Samman invited the community through social media to join her on the beach — to celebrate what would have been her brother Rami's 41st birthday.
On May 10, he succumbed to COVID-19, leaving Rima grief-stricken but determined to keep his memory alive in every way she could. And one of those ways was a birthday tribute on the beach. Through her Facebook page, she asked others to share in a "moment of unity and remembrance" and bring their memories of those who have died of the insidious virus.
Some 20 people gathered on that cold winter night for song and prayer — a display of compassion that truly touched Samman. "I felt humbled by the support from the community," said the Belmar resident. "My brother was very giving, and this would have been his way as well."
Since that evening, photos and videos of the tribute have warmed the hearts of hundreds on Facebook. And with each passing day, more and more memorial rocks are getting their place on the sand inside the heart of yellow-painted shells.
"I have 100 requests for rocks and another 55 unread messages," said Samman while on the beach on January 27. She has spent the past several days talking and messaging with people who have lost family members and friends to COVID-19 and personalizing their rocks for the display.
"These are their grandmothers, sisters, husbands … It becomes more of a reality when they can talk about it," she said. "For me, I'm glad I can be there. And it's healing for me."
While Samman plans on continuing to add to the memorial for the time being, people are welcome to bring their own hand-painted stones and make them part of the heart as well. In fact, so many individuals have done just that, the heart has filled up quickly — and a second one may soon be in the making.
"I'll start looking for shells tomorrow," she said, embracing the outpouring of compassion and caring during a difficult time for so many.
To celebrate Rami's life, watch this video: https://youtu.be/5_Aza7BUnys
We will honor and remember Rami on the Covid Memorial Quilt.   
IN MEMORY OF EARLA DAWN (RITZ) DIMITRIADIS - JANURY 16, 9154 - DECEMBER 5, 2020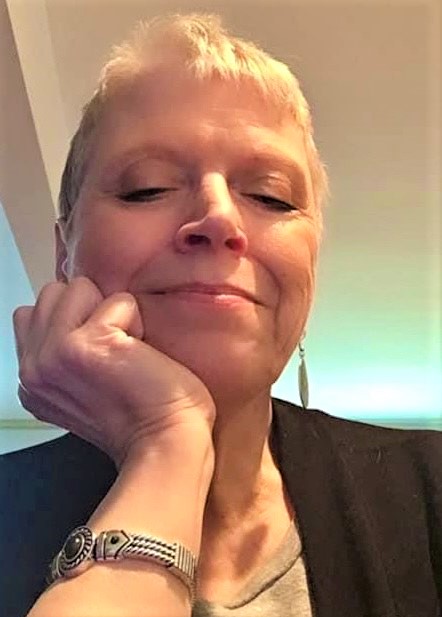 This Memorial Square comes to us from Jennifer in Massachusetts in honor and memory of her mother, Earla Dawn (Ritz) Dimitriadis who died of COVID-19. Jennifer writes: My mom was born on January 16, 1954, in Goshen, NY. Not having the opportunity to graduate from high school, Earla persevered against all odds and went on to earn not only a bachelor's degree but also obtain a master's degree in Psychology from the University of Phoenix.
Earla worked for over 25 years with ROSCCO, a non-profit organization that works collaboratively with the Stamford Public Schools, where she earned the title of Operations Manager. Earla's passion for her life's work undoubtedly impacted the lives of many children in Stamford over the years.  She was loved by her children, grandchildren, and community.
Earla was a gifted artist who possessed an unending stream of creativity, which she happily shared with the world. She crafted an original play that was performed at the Stamford Palace Theater and, later in life, went on to create her own business selling handcrafted jewelry.
My mother was a warrior. She was a survivor. She was fiercely kind. She was endlessly creative.  She was self-taught in almost all her artistic ventures. She was beautiful.  She was empathetic and compassionate.  Let's be honest; she was a badass. It is my mother's resiliency that allows me to be here today; you see, if we carry intergenerational trauma, then we also carry intergenerational wisdom and strength.
My mother was born into a world full of adversity. She never stopped believing in kindness despite having seen so much cruelness in her lifetime.
Earla caught COVID-19 from a family member that did not wear a mask.  She spent the last two weeks of her life hospitalized in pain, alone, and barely able to breathe. We will honor and remember Earla on the Covid Memorial Quilt. 
NOTE: Jennifer and her sister will be going through their mom's items and sending us something she wore to use as fabric for her Memorial Square. Once we have completed her Memorial Square, we will post it here.
IN MEMORY OF MANUEL JUAREZ - 5/30/1942 - 4/29/2021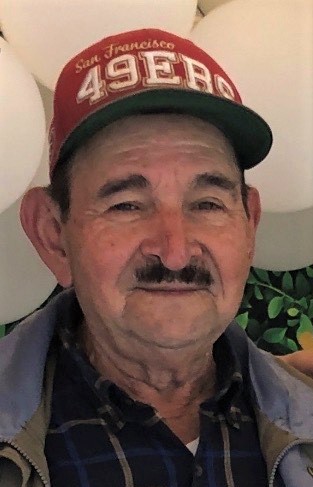 This Memorial Square comes to us from Nora in California in honor and memory of her father, Manuel Juarez, who died of COVID-19. Nora writes: I want to start off by saying Thank you for keeping our loved ones remembered. I have felt the same way, that they are not just numbers. They are people who we loved. I would like to have a square made for my father. He and my father-in-law passed away on the same day due to COVID-19.
Manuel Juarez - 5/30/1942 to 4/29/2021 Lived in Richmond, CA. He arrived in San Francisco in the 1970's from El Salvador. He worked hard to raise 3 kids with his wife, who had also arrived in San Francisco from Mexico. He became a US resident in 1992 and became a US citizen in 2018. He was proud of his accomplishment.
He loved gardening and was proud of his watermelons and vegetables. He loved watching sports and movies. His favorite teams were the San Francisco 49ers and the San Francisco Giants. Pre-COVID, he loved spending time with his family and going to eat at a local Salvadorean restaurant.
My dad began showing symptoms on April 14, 2021 and by April 29, 2021, he was gone. He died alone without anyone close to him. All he saw were the nurses in protective gear. No familiar face, no familiar voice.
He is survived by his wife Maria, his children Lorena, Victor and Nora, his 7 grandchildren, Crystal, Elias, Mariani, Natalia, Emma, Lorenzo and a new baby coming soon who he never met. We will always remember our dad for who he was in life and not as a number.
We will honor and remember Manuel on the Covid Memorial Quilt. 
IN MEMORY OF AEDAN SELPH - Age 12, DIED NOVEMBER, 2020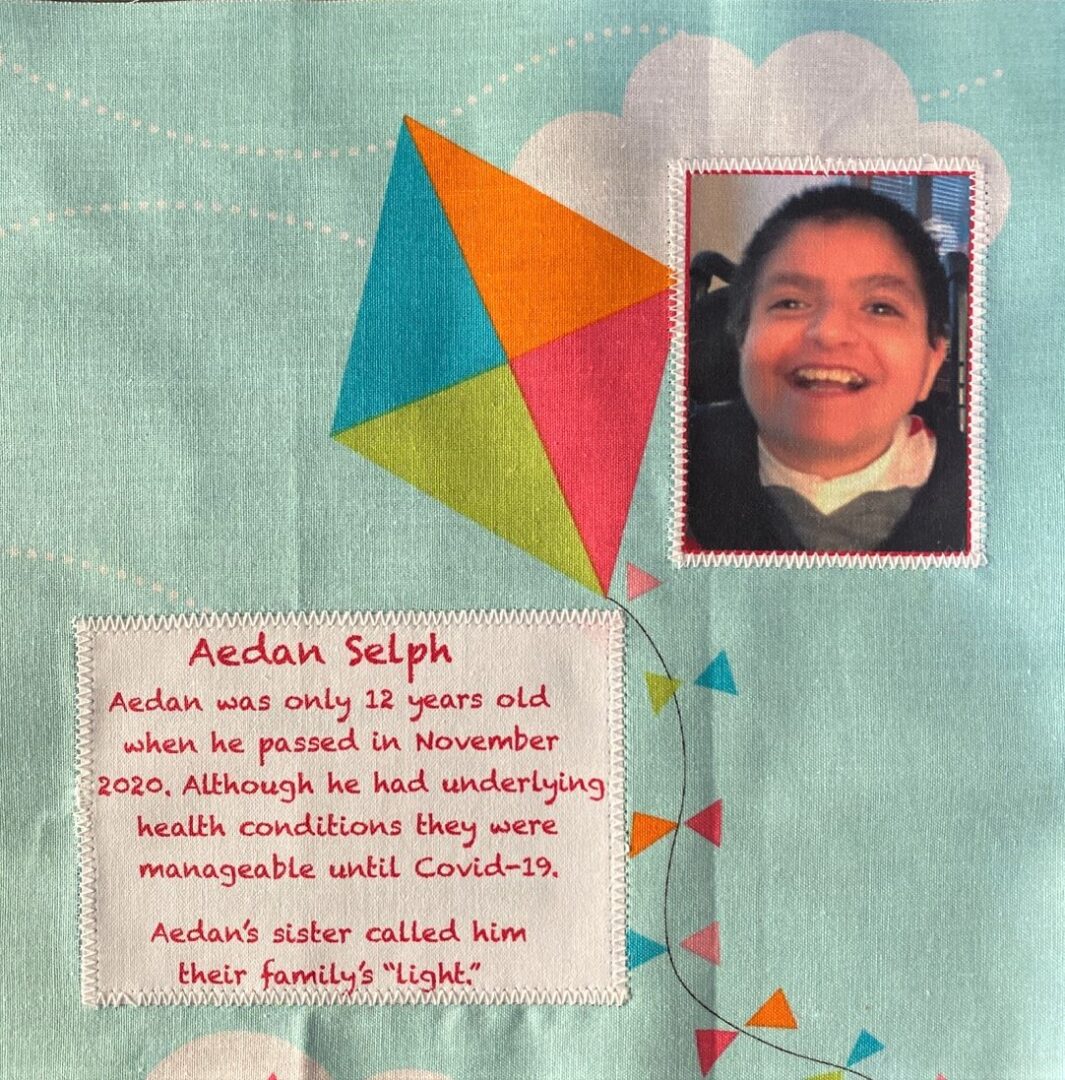 This Memorial Square is in honor and memory of Aedan Selph of New Mexico who died of COVID-19 at the age of 12 years old. From an article:
When Aedan Selph was 7 months old, he and his twin sister were taken out of the custody of the state's Children, Youth and Families Department and brought into a large, loving family living on Albuquerque's West Side.
Aedan had been born premature and was deprived of oxygen early on, causing his brain to swell and a host of other medical problems.
But, his older sister Evelyn Wolfe said, even though he couldn't walk and he verbalized in different ways, he was the happiest little boy. He and his twin were the babies of the family.
"He laughed like nobody ever knew in the world," Wolfe said, speaking on behalf of the family. "Like he would laugh and smile and that's why I say, literally, he would just light up a room."
Tuesday morning, at 12 years old, Aedan became the youngest New Mexican to succumb to COVID-19. There have been 1,302 deaths from the illness statewide.
Wolfe said she had been working from home and the family had been in strict lockdown but Aedan's father – who is considered essential and works at a store – must have come into contact with someone at his job who had the virus. She said he and Aedan started feeling bad on Nov. 15 and by that afternoon they were in hospitals on both sides of town.
Aedan's 66-year-old father remains in the Intensive Care Unit and is on oxygen, she said, and all together five members of the household tested positive for the novel coronavirus. The rest are in quarantine awaiting test results.
"My brother was special needs but this can happen to anybody…," Wolfe said. "I just want people to realize how important it is to use the precautions. My dad, being an essential worker, he unknowingly brought it home because with his job he dealt with people. And a lot of people don't take it as seriously as it needs to be taken – and it needs to be taken seriously."
The way Wolfe, 31, describes it, the household is like "one happy Partridge family" with eight foster children adopted over the years, many of whom have medical conditions. She said COVID hit like a whirlwind. On Saturday, Aedan and his father were fine. But by Sunday morning they were both weak and Aedan was having seizures. His mother called an ambulance for them both. 
"He went in and they told us 'he seemed to be doing a little bit better, you know, we're going to keep him for observation for 10 days because he is medically fragile and everything,'" Wolfe said. "And then literally out of nowhere, my mom called me and told me, 'Hey, you need to come to the house. They told us he's probably not going to make it.' "
The news was devastating. Wolfe said her little brother's left lung had completely collapsed and he was only able to use his right one. The family was given the option of keeping him on life support forever or making him comfortable and letting him go.
After much thought, they chose the latter option.
Wolfe said she and Aedan's mother went to Presbyterian Hospital and – clad in protective equipment – they were able to visit Aedan for about an hour. The nurses were making him comfortable, removing the medical tubes delivering plasma antibodies to his body, and preparing for the worst when they left.
"And as we were walking out of the elevators to go home somebody came running down telling us, 'Hey, he's not going to make it,' " Wolfe said. "And me and my mom ran back upstairs and my mom was like, 'You'll get dressed faster than I will.' "
So Wolfe hurriedly got dressed – donning a protective gown, shield, gloves and mask – and entered the room.
"I went in there and said a prayer over him and held his hand in my hand while he took his last breath…," she said, choking up. "I just didn't want him to be alone. I knew it was coming. I just couldn't let my little brother be alone. Nobody should be alone when that happens."
We will honor and remember Aedan on the Covid Memorial Quilt.   
IN MEMORY OF PAUL BLACKWELL & ROSEMARY BLACKWELL - DECEMBER 13, 2020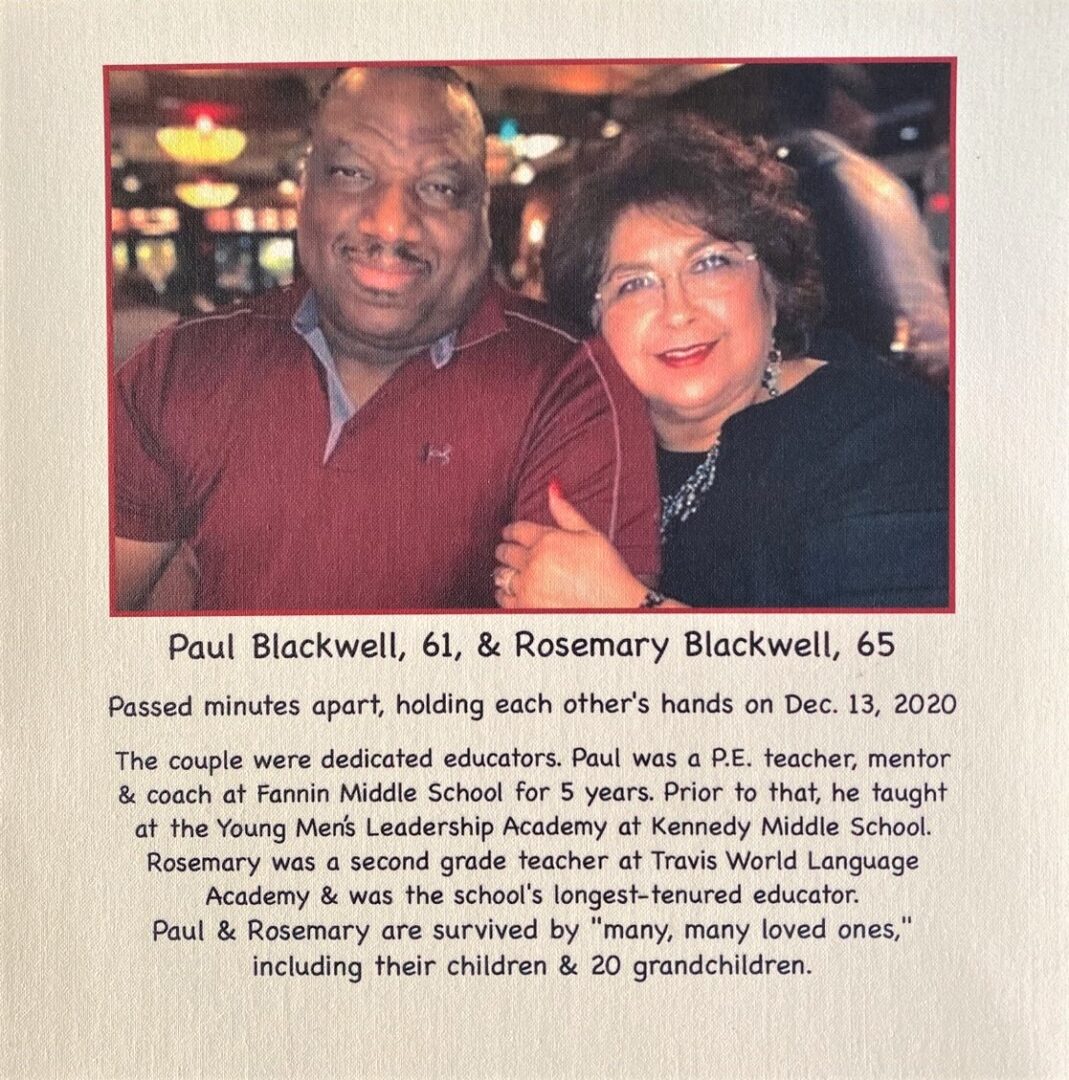 This Memorial Square is in honor and memory of Paul and Rosemary Blackwell of Texas, who died within minutes of each other of COVID-19. From an article: 
A Texas couple married for 30 years who were hospitalized with Covid-19 were holding hands as they both died on Sunday, their family says.
Paul Blackwell, 61, and Rosemary Blackwell, 65 — longtime educators of Grand Prairie Independent School District — died just minutes apart at Harris Methodist Hospital in Fort Worth, Texas, two of their sons told NBC News.
The couple contracted the virus nearly a week before Thanksgiving. "It really took a toll on them pretty quickly," son Shawn Blackwell said of his parents after they began exhibiting symptoms.
He said his mother was having shortness of breath at night and wasn't sleeping. His father laid on the couch for four days. Their deteriorating conditions forced them to miss Thanksgiving with their children for the first time.
"There's not been one Thanksgiving we've never spent together," son Brandon Blackwell said. The Friday after the holiday the couple was admitted to the hospital, where they'd spend the next few weeks fighting for their lives.
"It was hard to have them in the hospital," Shawn Blackwell said.
The brothers weren't able to physically see their parents and were only able to video chat with them. Their father broke down on one of those video calls, saying he didn't think he was going to make it.
"Their spirits were not too high during their hospital stay," Brandon Blackwell said. "But just us being there, I know, gave them some type of comfort. I was just glad they were able to see our faces."
It was shortly after video calls with their children that the Blackwells were transferred to the intensive care unit.
"My little brother Shawn got to speak with my mom right before she got intubated and I was able to speak with my dad right before he got intubated, so it was crazy how that worked out," Brandon Blackwell said.
The next time the sons would see their parents would be on their deathbeds.
"My dad wasn't going to make it too much longer and my mom was right behind him," Shawn Blackwell said. After consulting the doctors, the family made the difficult decision discontinue their life support.
Paul and Rosemary Blackwell died holding each other's hands — and the hands of Shawn and Brandon Blackwell, finally able to see their parents in person.
We will honor and remember Paul and Rosemary on the Covid Memorial Quilt. 
IN MEMORY OF JAMEELA DIRREAN-EMONI BARBER - MAY 21, 2002 - APRIL 25, 2020, 17 YEARS OLD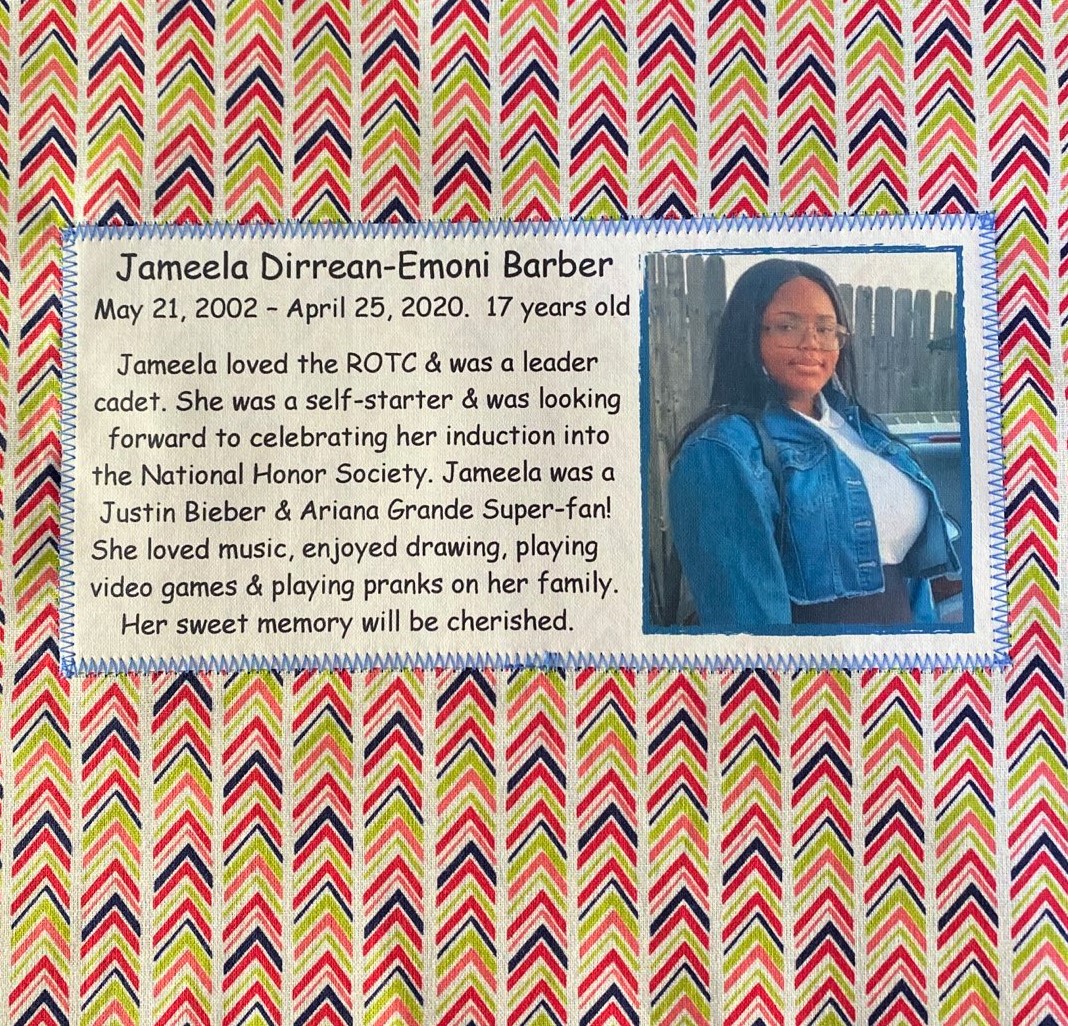 This Memorial Square is in honor and memory of Jameela Dirrean-Emoni Barber, 17, who died of COVID-19. From an article:
Jameela had big plans. She was a junior at Lancaster High School, a member of the JROTC, a national honor society inductee and her mom said she participated on the yearbook committee.
"From the day she was born, she was nurturing," said Jakena Barber-Brown, Jameela's mother.
"She was a special gift from God, this is a very, very tough loss. She had so much going on for her, her future was bright, so it's terrible."
The teen was set to graduate in 2021 and her goal was to attend college at Prairie View A&M. She wanted to become an interior design architect, but instead of planning for her future, Jameela's family is planning for her funeral.
The 17-year-old tested positive for the coronavirus two weeks ago according to her mother. So did Jameela's step-father and her older sister, who works in the medical field. Barber-Brown said her 28-year-old daughter who lives with them, was exposed to a patient.
"All of a sudden she got ill, fever, achy body, vomiting, stomach problems, diarrhea, the symptoms hit her within two day period time span," Barber-Brown explained about Jameela. She was experiencing the worst pain.
"She said it was a stabbing pain, an excruciating stabbing pain," Barber-Brown said.
The mother of three took Jameela to the emergency room on Wednesday, April 22. She said after doctors ran several tests, they gave her medicine and sent her home.
Three days later, on Saturday March 25, the day started off as usual.
"I fed her breakfast, gave her something to eat, gave her her pills," Barber-Brown recalls. "We were all just lounging around and she wanted to go take a shower, and the water kept running."
Barber-Brown knew something wasn't right.
"I had my oldest daughter (go), because they were quarantined on that side of the house, I had her go and check on her and that's when we had to go call 911," Barber-Brown explained.
Jameela was not responsive.
"It's a nightmare, that's what's causing me not to be able to sleep at night is to see my baby's lifeless body laying there, I didn't know what to do we performed CPR, we called 911," she said. "I kept telling the 911 operator, she's not breathing, she needs the respirator, she needs the machine to breath, they came with no equipment."
She said EMS performed CPR on her daughter, placed her in the ambulance and took her to the hospital. Barber-Brown was only allowed inside because her daughter was a minor. After waiting, a doctor told her, Jameela didn't make it.
"I had already prayed to God because just as a mother seeing her baby's face, I could already tell something wasn't, right, so I was already prepared for those words," Barber-Brown said. "When they came to me, I just called out to God. I think I was just numb."
She said her daughter was never sick before and didn't have any other health issues, which is why she was surprised to hear what medical professionals told her contributed to Jameela's death.
"The medical examiner actually said it was due to blood clots and liver failure, which makes no sense, she didn't have any underlying conditions," Barber-Brown stated. "If it's blood clots and they're saying liver failure, all that should have been caught."
As doctors and scientists continue to learn more about the novel coronavirus, Barber-Brown hope's her family's loss serves as a reminder for people to take the virus seriously.
"If you just have to get out , I suggest that you don't. If you have to get out, I suggest that you be very, very cautious," said said.
We will honor and remember Jameela on the Covid Memorial Quilt. 
IN MEMORY OF TAGAN DRONE - APRIL 21, 2015 - OCTOBER 30, 2020 (age 5)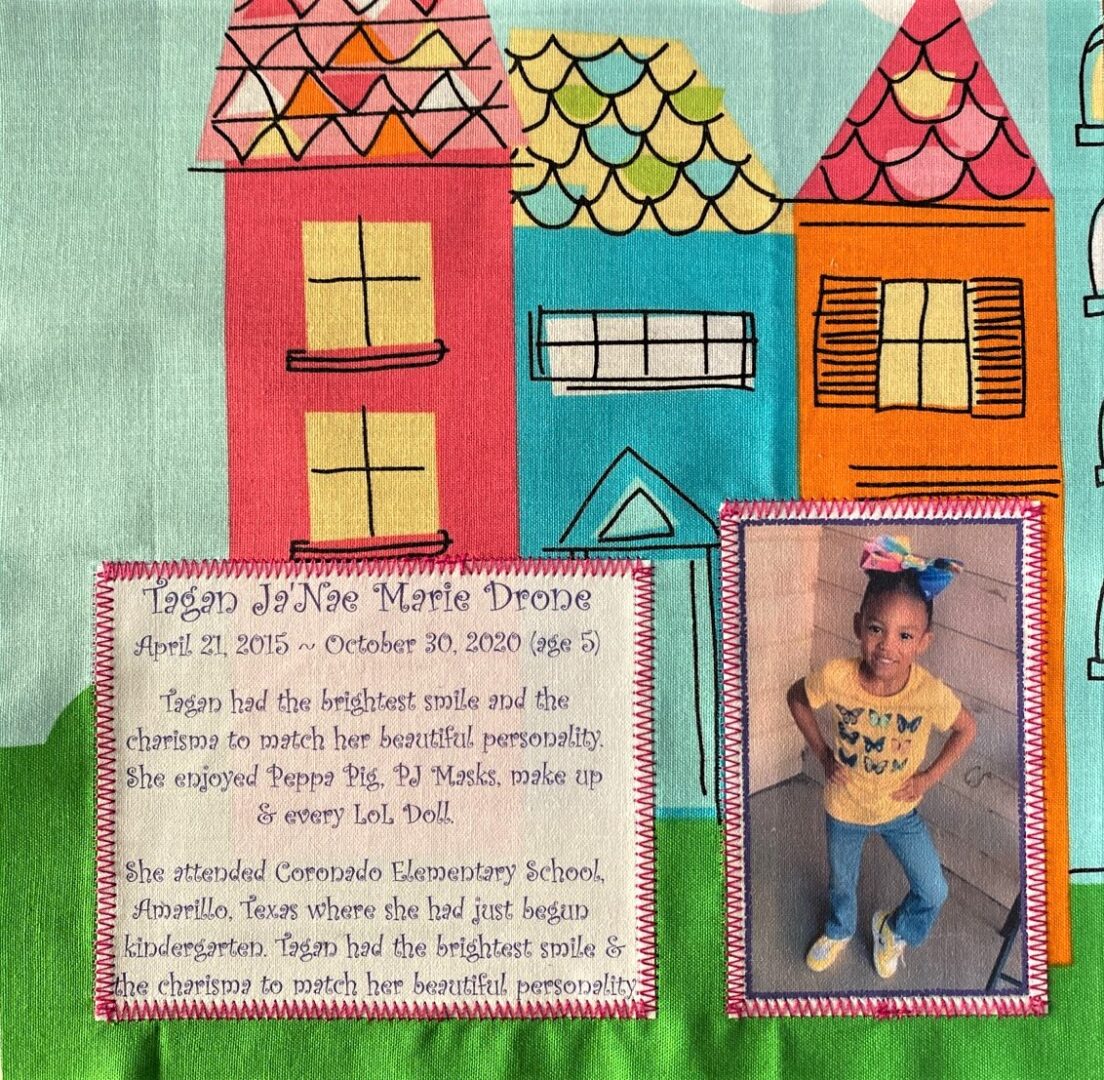 This Memorial Square is in honor and memory of Tagan Ja'Nae Marie Drone who died of COVID-19 at the age of 5 on October 30, 2020. 
Tagan had the brightest smile and the charisma to match her beautiful personality. She enjoyed Peppa Pig, PJ Masks, make up and every LoL Doll. She attended Coronado Elementary School where she had just begun kindergarten.
She is proceeded in death by her grandfather; Anthony White, great grandmother; Ellen Hancock, younger brother; Ceasar Joseph Walker Drone, grandmother; Jackie Sanders, and great great grandmother; Beulah Turner.
She is survived by her parents; Lastassija White & Quincy Drone, one sister; Ana'Liyah Walker Drone, grandmother; Tavia Hancock, great grandmother; Connie Sanders, great grandfather; Roy Sanders, grandfather; Christopher Drone, great aunts; Tonia & Chalanda Sanders, aunts; Latosha Sanders, India Dickson and Lorraine Price, uncles; Travon Cleveland & Allen Bates, and Aundre White, a few special cousins who were her true best friends and a host of other family. 
We will honor and remember Tagan on the Covid Memorial Quilt.   
IN MEMORY OF ANTHONY FADDIS - 10/08/1966 - 04/29/2021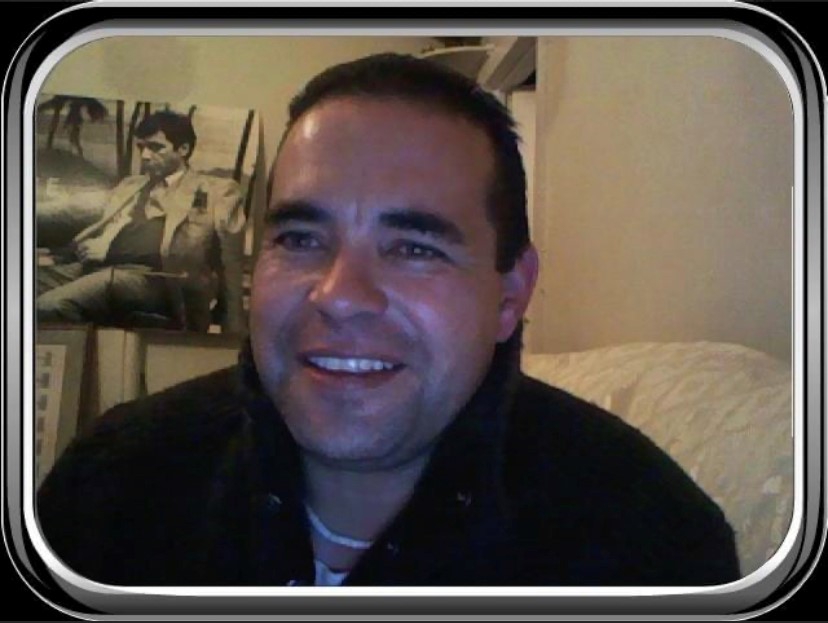 This Memorial Square comes to us from Bianca in honor and memory of her father, Anthony Faddis, who died of COVID-19. Bianca writes: I recently lost my father due to COVID and thought it would be beautiful for him to be honored in this way and not just in my home. I would like for a square to be created for my dad. Attached is a photo of him and below is a little bit about who he is and all the things he enjoyed/loved.
Beloved father, grandfather, brother and friend.
"I'd rather die like a man, than live like a coward" - Tupac Shakur

My father, Anthony Faddis a.k.a Tone Loc a.k.a Lil Man, was born and raised in San Francisco, CA. He was the most loving, funny/hilarious and thoughtful man I could have ever known. In his own special way, he was the greatest and he loved genuinely and wholeheartedly. He would provide shelter, a hot meal, an opportunity and share his love to those who needed it. He had an answer and solution for any and everything. When he didn't know, he would figure it out. He had this infectious smile and laugh that would make those around him laugh even more. My dad was one of a kind and those who had the opportunity to have him in their life were lucky and blessed.
When he was younger, he enjoyed running track, break dancing and playing football. As he got older, he grew to love watching and playing golf with family and friends. He was a big sports fan--his favorite sports teams were San Francisco 49ers, San Francisco Giants and Golden State Warriors. He loved cars, specifically Volkswagen Beetles and Harley Davidson motorcycles. He enjoyed being a father, friend, uncle and most of all, a grandfather. 
My dad is survived by his four kids: Anthony Faddis Jr., Daniel Faddis, Dolores Venegas and Bianca, his six grandchildren: Liliana, Elias, Adrian, Isaac, Mariani and Natalia. He is preceded in death by his Mother, Lucy Faddis and his only sister, Cindy Faddis. He will forever be missed and never forgotten!
We will honor and remember Anthony on the Covid Memorial Quilt. 
IN MEMORY OF CARLOS ANAYA - NOVEMBER 13, 2020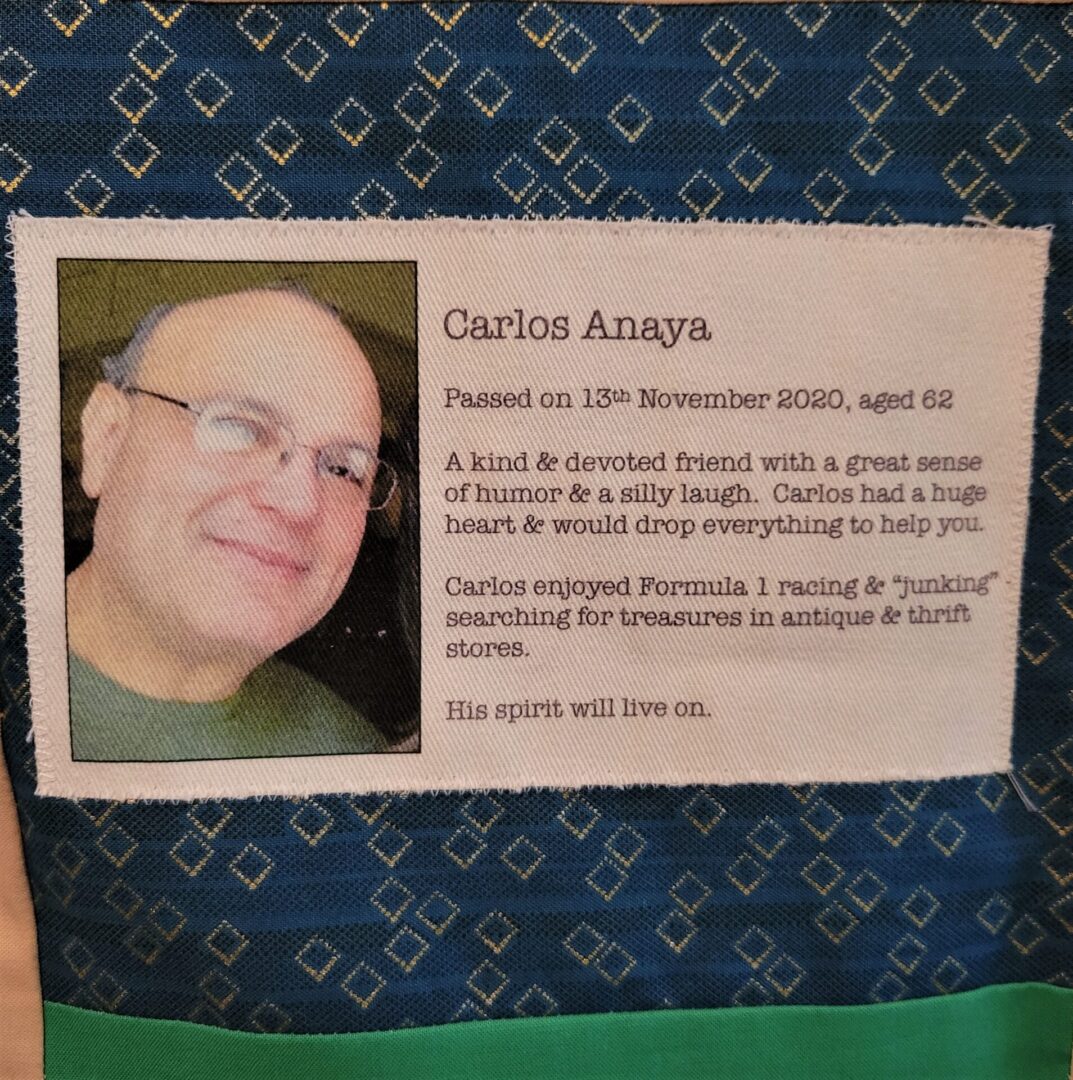 This Memorial Square is in honor and memory of Carlos Anaya of Washington who died of COVID-19. From an article:
Carlos Anaya, a former press operator at The Astorian, died Friday after being hospitalized for the coronavirus.
Friends of Anaya, 62, said he was moved from Columbia Memorial Hospital in Astoria to PeaceHealth Southwest Medical Center in Vancouver, Washington, in early November, where he was on a ventilator.
Clatsop County declined to confirm that Anaya was the county's first death from the virus, but friends who were notified of his death believe he fits the description.
Anaya spent more than 20 years working as a journeyman pressman in California and RR Donnelley in Portland before moving to Astoria, where he spent 14 years at The Astorian. He retired in January 2019.
John Bruijn, the production manager at The Astorian, said Anaya enjoyed sharing his knowledge of offset web printing with co-workers.
"Carlos enjoyed what he referred to as 'junking,' visiting antique stores and thrift stores, finding little treasures for his friends and fellow employees," Bruijn said in an email. "Carlos and I shared interest in Formula One auto racing. He would often bring me items he found at 'junk stores' related to automobilia and racing.
"He did this for all of his friends as well."
Anaya's friends remember him as kind, loyal and a mentor.
Constance Wacha said she was struck and inspired by how Anaya survived the loss of his wife, Carol Little, in 2016 by "leaning in and becoming a humble friend and mentor."
"Their deep love and support of our community aided him, and he in return held us up and aided us," Wacha said. "He was strong and sweet." 
"He was the wisest person I've ever known, a loving and caring person with a huge heart that would drop everything to help you ... his spirit will live on until the end."
We will honor and remember Carlos on the Covid Memorial Quilt. 
IN MEMORY OF CHAD ALLEN FRANK - NOVEMBER 13, 2020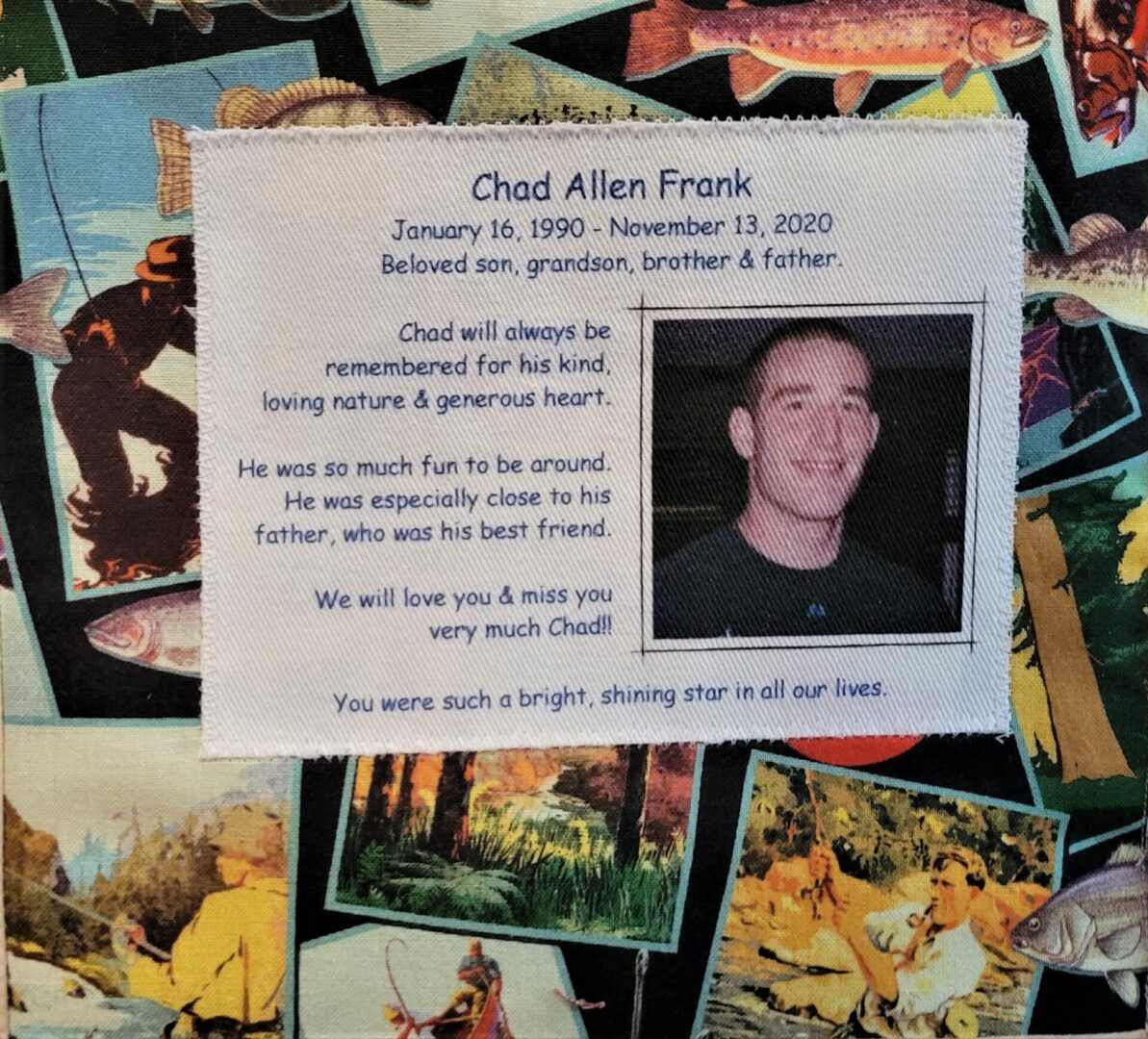 This Memorial Square is in honor and memory of Chad Allen Frank of Oregon who died of COVID-19 at age 30. From an article:
His name was Chad Allen Frank. He was 30 years old. And he had no pre-existing health conditions. The Lane County man died of COVID-19 at home on November 13th.
Frank loved gardening, fishing and camping. He had a goofy sense of humor and was fun to be around.  His father was his best friend.
And the family suffered a different kind of tragedy four years ago this month. Frank's 19-year-old sister, Jessica, was murdered in November 2016 in Eugene by a man she met online.
From another article sent:
Chad Allen Frank was a beloved son, grandson, brother and father. He was born January 16, 1990 to Richard Frank and Jennifer Winn Phillips. He passed away at home on November 13, 2020 from Covid-19. He did not have any preexisting health conditions.
Chad will always be remembered for his kind and loving nature and generous heart. Chad always had a goofy sense of humor and was so much fun to be around. He loved all people and animals. Chad loved gardening, fishing, camping and boating. He enjoyed spending time with his family. He was especially close to his father, who was his best friend. We will love you and miss you very much Chad!! You were such a bright, shining star in all our lives.
We will honor and remember Chad on the Covid Memorial Quilt.   
IN THANKS TO THE DELIVERY DRIVERS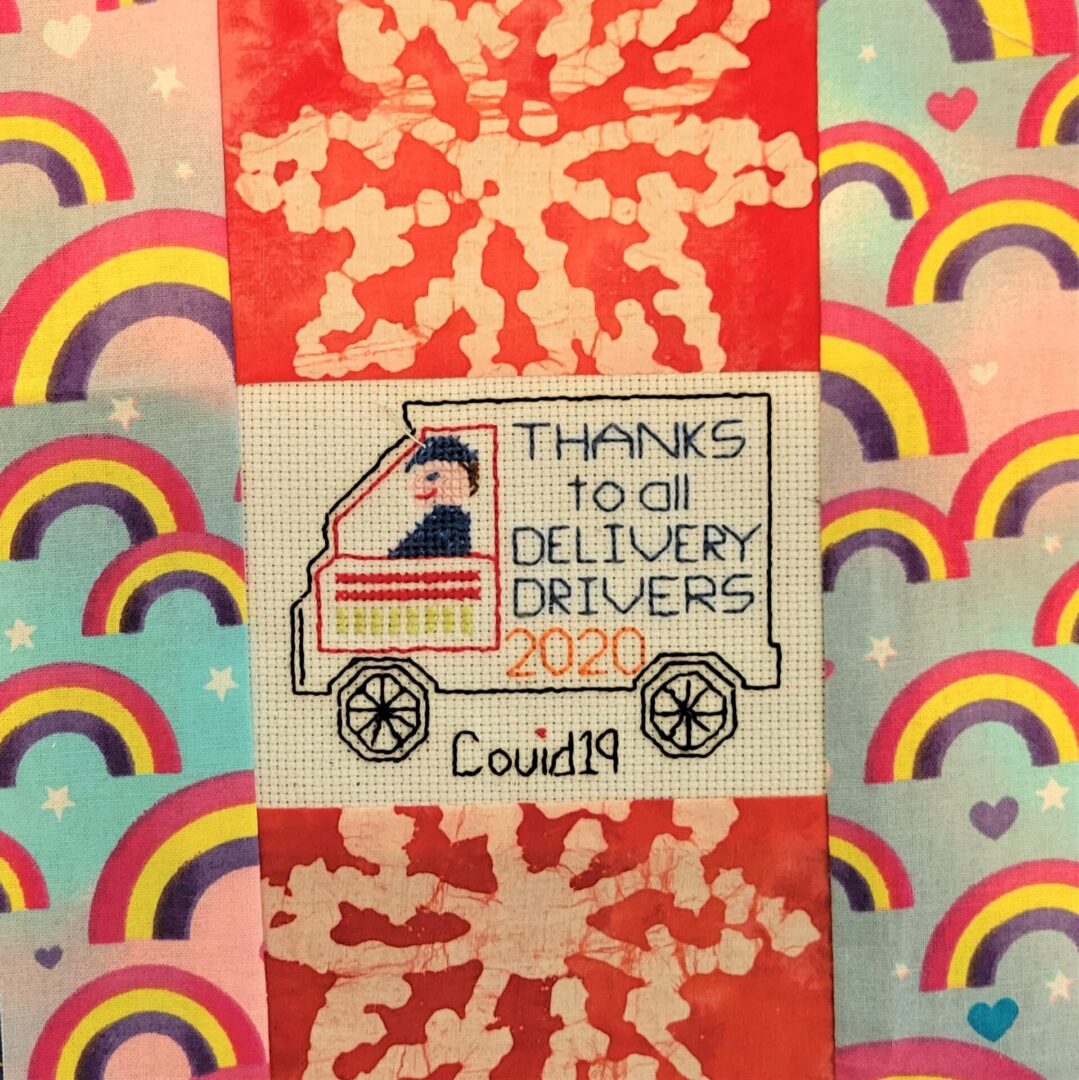 This Memorial Square was made by Joan from England in honor and thanks to the Delivery Drivers during Covid-19. "Thank you for working so hard during the pandemic to deliver so many essentials we needed. Because of you we were able to stay home and help flatten the curve." 
We are grateful to all the delivery drivers and will remember them on the Covid Memorial Quilt. 
IN MEMORY OF LOY DAVID TAYLOR - APRIL 29, 2020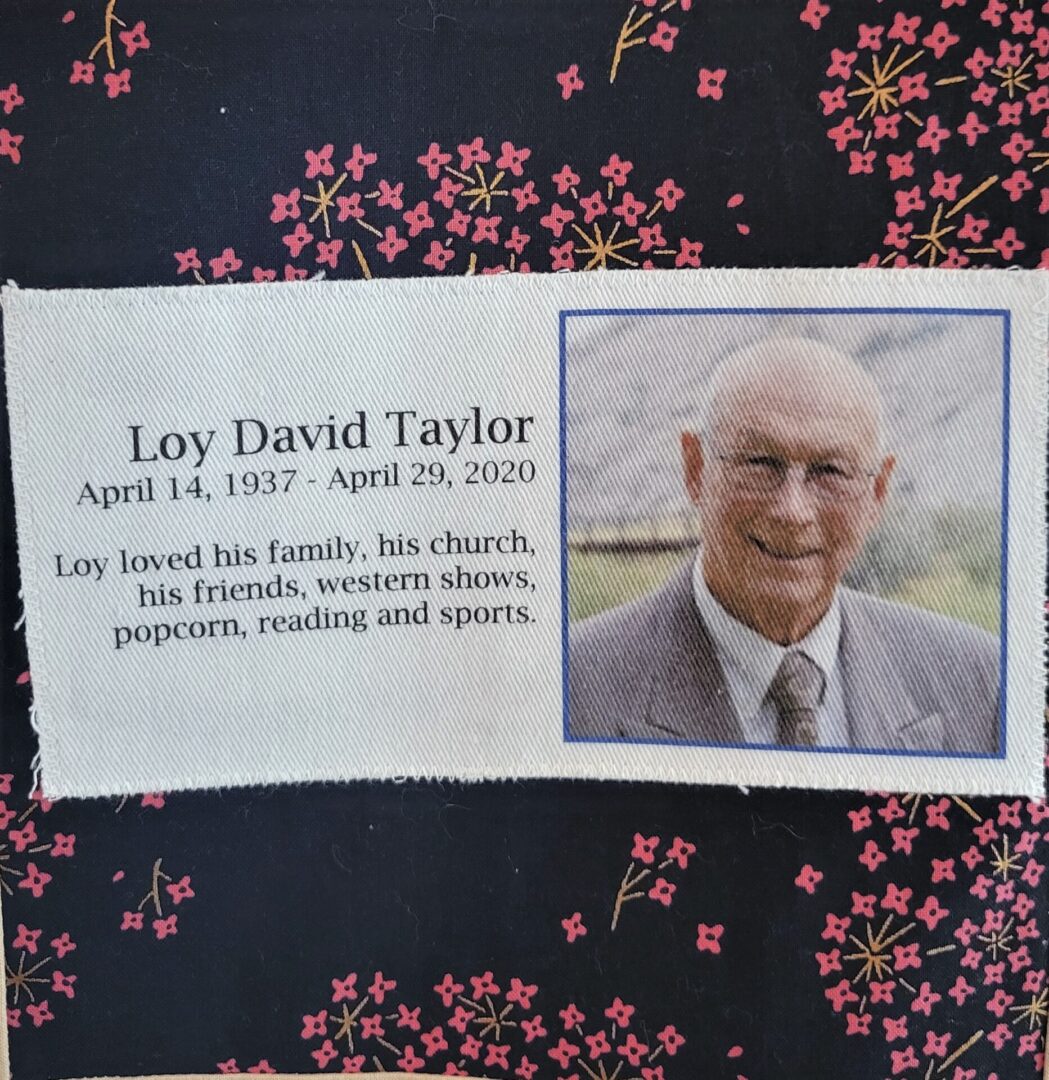 This Memorial Square is in honor and memory of Loy David Taylor who died of COVID-19. Loy David Taylor passed away on April 29, 2020, due to complications associated with COVID-19.
Loy was born in Idaho Falls, Idaho, on April 14, 1937, to Persis Arvella Young and Ralph Meredith Taylor. Loy was Ralph and Percy's third child and grew up in Iona, Idaho. Growing up, Loy loved sports-especially basketball-and learned the value of hard work and integrity from his wonderful parents. Loy graduated from Bonneville High School and later served an LDS mission in the Eastern States Mission. Loy also joined the United States Army and received an honorable discharge.
Loy married Anita Jakobsson, and they were blessed with six children. Loy received a Master's degree from Brigham Young University and worked for several years as a seminary teacher for The Church of Jesus Christ of Latter-day Saints in both Rexburg and Blackfoot, Idaho.
Loy married Jean Hardy in 2008. They loved traveling and serving as missionaries. Their most recent mission concluded in 2019 at the Martin's Cove Visitor Center in Wyoming. Loy loved his Savior, Jesus Christ, his family, reading, western shows, popcorn, friends, giving to others, and family preparedness.
The Taylor family wants to thank the incredible staff of doctors and nurses at St. Luke's Meridian Medical Center for their professionalism and compassion they showed toward our dad and husband. 
We will honor and remember Loy on the Covid Memorial Quilt. 
IN MEMORY OF NICHOLAS CORDERO -JULY 5, 2020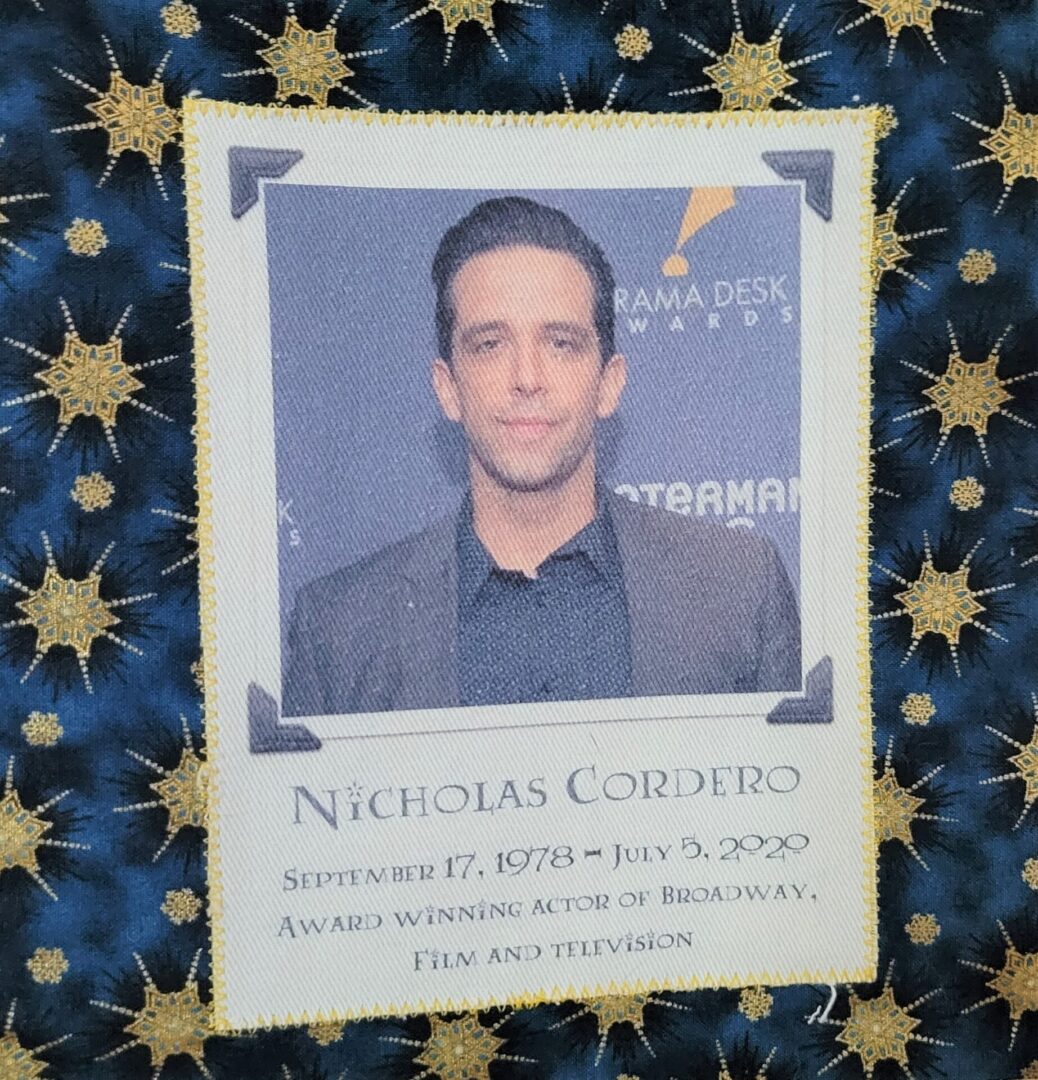 This Memorial Square is in honor and memory of Nicholas Cordero who died of COVID-19 on July 5, 2020. From the New York Times:
Nick Cordero, Nominated for Tony as Tap-Dancing Tough Guy, Dies at 41
The Broadway actor's battle with the coronavirus was followed closely by many as his wife chronicled his experience on social media.
Nick Cordero, a musical theater actor whose imposing height — 6 feet 5 inches — and effortless charm brought him a series of tough-guy roles on Broadway, died on Sunday in Los Angeles. He was 41.
His death, at Cedars-Sinai Medical Center, was announced on Instagram by his wife, Amanda Kloots. She did not cite a cause, but he had been in the hospital for three months after contracting the coronavirus. The couple moved from New York to Los Angeles last year.
Mr. Cordero's experience with the virus, which included weeks in a medically induced coma and the amputation of his right leg, was chronicled by Ms. Kloots on Instagram.
Mr. Cordero's big break came in 2014, when he played Cheech, a gangster with a fondness for theater and a talent for tap in a musical adaptation of Woody Allen's 1994 film "Bullets Over Broadway." The role earned him a Tony nomination for best performance by an actor in a featured role in a musical. (James Monroe Iglehart won for "Aladdin.")
"Mr. Cordero never pushes for effect, even when he's leading a homicidal dance number to ''Tain't Nobody's Biz-ness if I Do,'" Ben Brantley wrote in his review in The New York Times. "And somehow, this dopey, mass-murdering thug and the actor playing him stand out as being far more endearingly earnest than anybody else."
He went on to play the abusive husband of the title character in "Waitress" and a mentoring mobster in "A Bronx Tale."
"The terrific Mr. Cordero radiates a cool charisma that mixes a surface geniality with shrugging ruthlessness" in "A Bronx Tale," Charles Isherwood wrote in his Times review.
Mr. Cordero fell ill on March 20 with what was initially diagnosed as pneumonia and later as Covid-19, Ms. Kloots said in her Instagram posts. He was kept alive for weeks, she said, through the use of a ventilator, dialysis and a specialized heart-lung bypass machine; he endured brief heart stoppage, minor heart attacks and sepsis, Ms. Kloots said, as well as the leg amputation and a tracheotomy.
As he remained unresponsive, she began daily playing a song that he had written, "Live Your Life," and encouraging others to do so as well. Many people joined in online, sharing videos of themselves singing and dancing as they tried to encourage his recovery with the hashtag #WakeUpNick.
We will honor and remember Nicholas on the Covid Memorial Quilt.   
IN MEMORY OF SPIDER "RAUN" BOARDMAN - MAY 24, 2021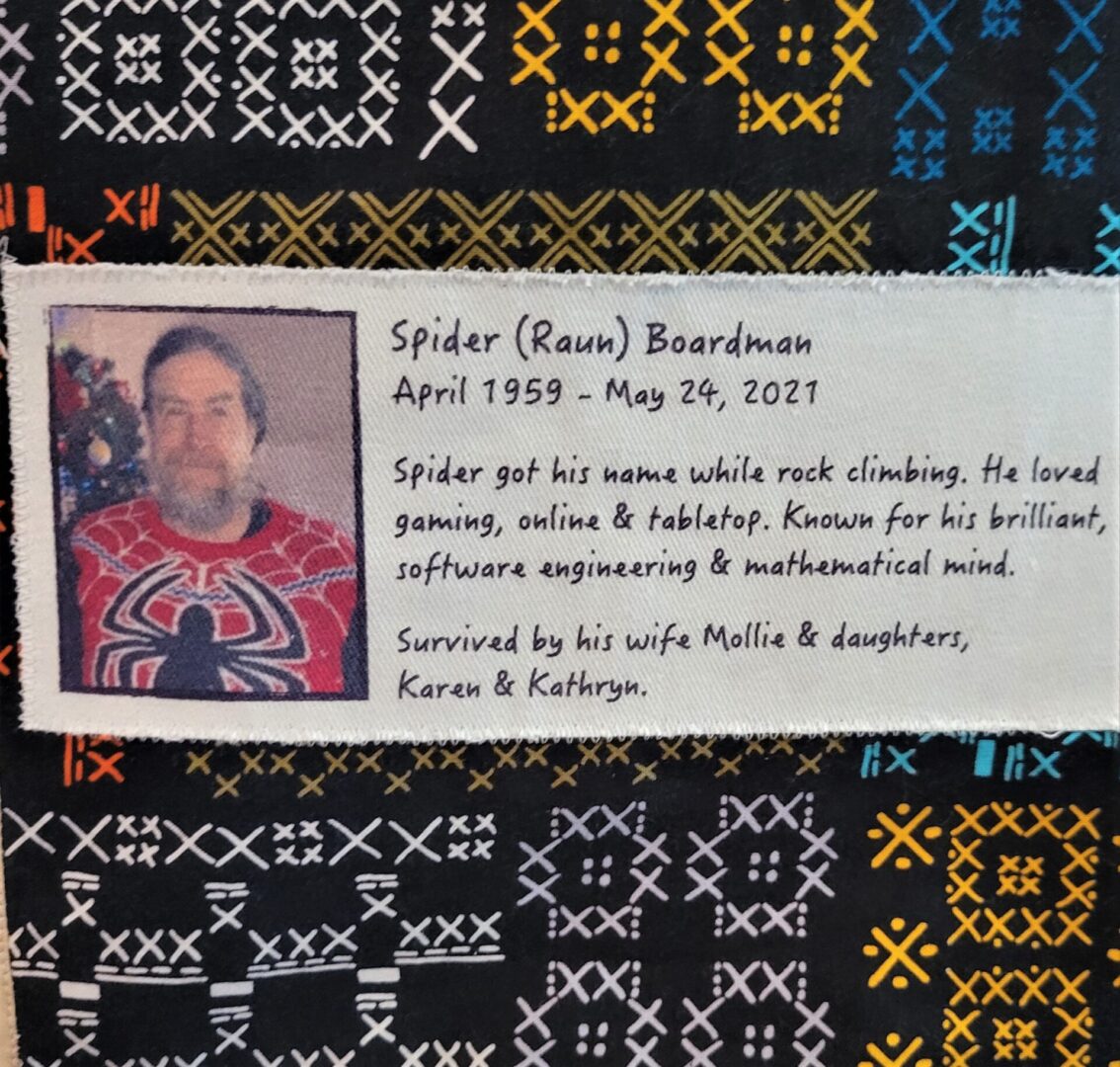 This Memorial Square is in honor and memory of Spider (Raun) Boardman (62) died Monday, May 24, 2021, of heart failure and pneumonia caused by complications of COVID-19, in Nashua, N.H.
Born in Medford, Ore., attended Medford High, University of Oregon.
He was hired by Digital without a degree, because he fixed some bugs in their magnetic tape drivers. Spider started in their TOPS-10 group. He worked on several OS's, including UNIX and Perl. He worked on the Alpha project and with the Itanium Collaboration.
Spider got his name while rock climbing in Oregon. He loved gaming, online and tabletop. Known for his brilliant, software engineering and mathematical mind. Spider held several patents pertaining to his work in computer technology.
We will honor and remember Spider on the Covid Memorial Quilt. 
IN MEMORY OF WILFORD & MARY KEPLER - BOTH DIED APRIL 18, 2020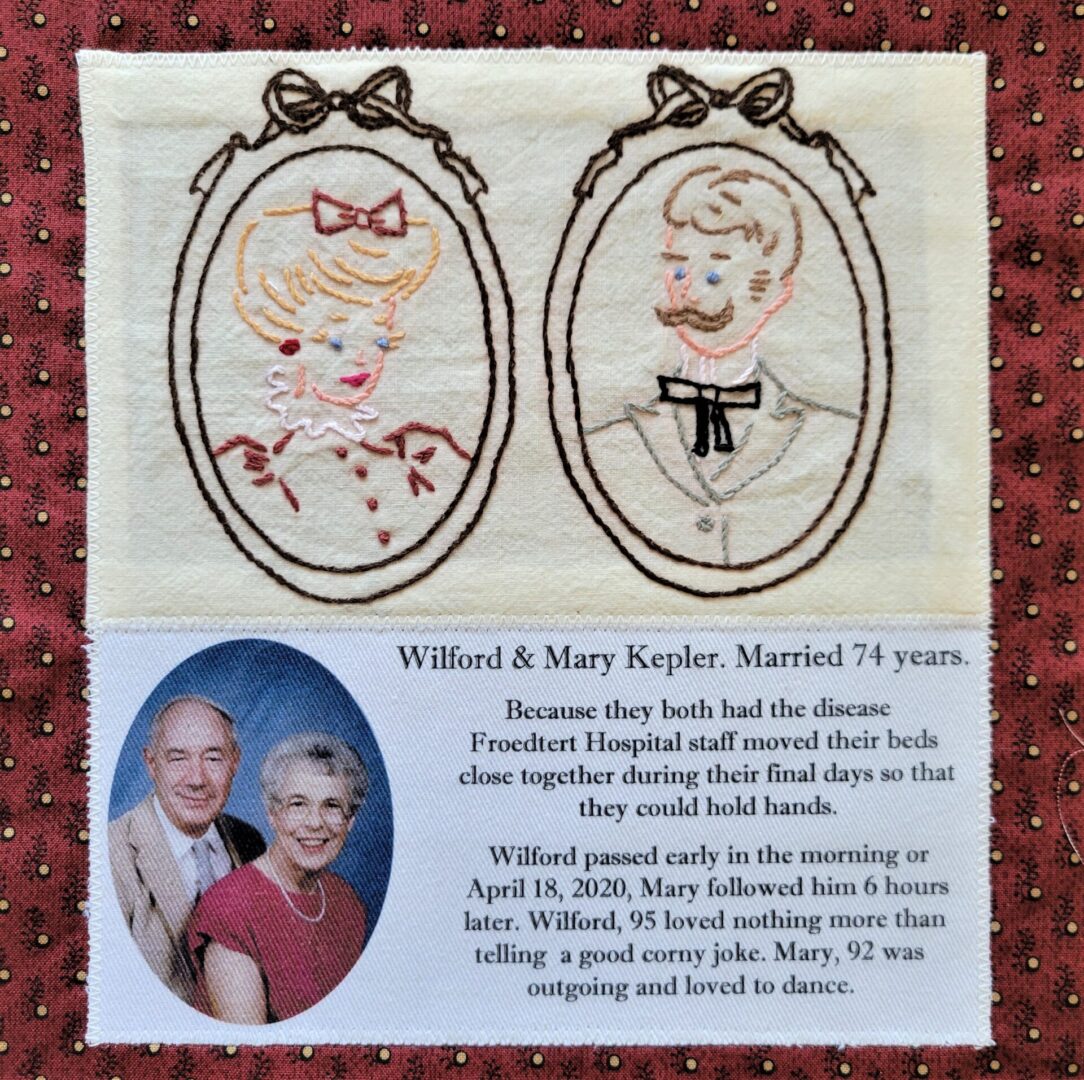 This Memorial Square is in honor and memory of Mary and Wilford Kepler, who were married 74 years, contracted COVID-19 and died just hours apart. 
Mike Kepler, the oldest of Wauwatosa couple Mary and Wilford Kepler's three children, smiled when he talked about his parents on a sunny afternoon in July. 
Mike said that Wilford, 94, was more reserved, but loved a good corny joke. "We always groaned at most of his jokes," Mike said. "But he liked telling them and enjoyed getting the reaction." Mary, 92, was the outgoing one — she loved to dance and had what her son called "spark."
"If we were at a wedding and friends of mine were sitting around, she'd go up and ask them to dance," Mike said. "And if she wouldn't get a dance from one of the people, she'd make sure that next person down would be asked to dance. So she liked to be out there on the dance floor."
When Wilford was 18, he was drafted into the Navy to fight in World War II. Mike said his dad served as a pharmacist's mate, going all over the Pacific Ocean to treat soldiers who were wounded. In the Battle of Okinawa, Wilford treated a sailor whose ship had been hit by kamikaze planes.  
"I know he stayed up with one of the sailors coming off that ship who had been badly injured," Mike said. "He stayed up with the guy all night just making sure that he knew that somebody was there for him."
That's also when he started talking to Mary, who was a cheerleader at her high school in Richland Center, according to Mike. Mary started writing letters to Wilford. "Then when he came back from the war I think he probably made a beeline to her door," said Mike. The two got married in 1946, and had three children. 
Wilford and Mary started feeling sick in April. A few weeks into feeling sick, Mary got tested for COVID-19, and soon learned she had the virus.
In mid-April Wilford fell, injuring his head. Both Wilford and Mary were admitted to a local hospital where Wilford tested positive for the virus. His conditioned worsened and eventually hospital staff moved Wilford and Mary so that they could be in the same room.
"After a day or two in the ICU unit, they moved him to the same ward that my mother was in," Mike said. "They moved them into the same room, and they moved their beds together ... We were very happy with that."
Wilford died due to his head injuries early in the morning of April 18. Mary died from coronavirus complications just hours later. Wilford and Mary Kepler spent their final moments together just feet apart at Froedtert Hospital. They died April 18. Wilford Kepler, 94, died first. Mary Kepler, 92, died six hours later. 
We will honor and remember Wilford and Mary on the Covid Memorial Quilt.